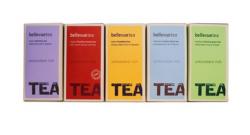 It's not often we spend more time in the office looking at packaging rather than the food within it, but the Bellevue Tea sample pack had designers rushing over from their Macs to coo and drool over this elegant tea's exterior.
'Mmm nice font, nice choice, great colours, crisp design, timeless,'were among the things they said. It was all we writers could do to get the packs out of their hands and get the kettle on for a taste test.
The little tea bags inside the boxes have been designed with as much thought as the exterior, the bags are stitched, rather than stapled or glued, so all you can taste is the tea.and the tea bags have a double chamber, so that there is extra space for the tea to infuse. They have a a string and tag, of course for teapots and mugs and each tea bag is individually wrapped.
So what about the tea within? Well there's a good choice – a well balanced Ceylon black, a robust and bright Breakfast tea, a classic and lightly fragrant Earl Grey, a traditional Sencha green tea and for those who prefer a caffeine-free herbal infusion, an original Rooibos, which is mild, sweet and gently soothing.
And the good news is that you can buy them online with a flat rate postage of £2.50 for any quantity.