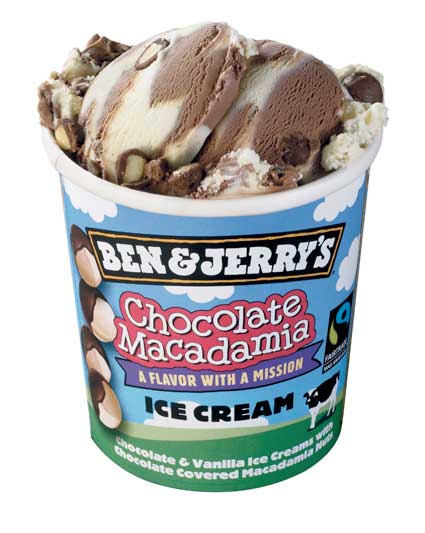 Ben & Jerry's Goes Global With First Ever Worldwide Launch
Brace yourselves ice cream lovers, we have a scoop; Ben & Jerry's have unveiled its fourth Fairtrade flavour in the UK. And the icing on the, er, ice cream? Ben & Jerry's think this mystery new concoction is so good, it's being launched in every corner of the world at the same time. What a jolly ice story!
But enough of the tub thumping. We can now exclusively reveal that the must-have ice cream to fill your freezers with this March is Fairtrade Chocolate Macadamia Nut. It's a delicate mix of Fairtrade chocolate and vanilla ice cream, with a dairyingly delicious heap of chunky chocolate covered Macadamia nuts that will have you licking your lips for more!
Ben & Jerry's know, better than most, that it's what's inside that counts. With this in mind, Chocolate Macadamia Nut not only contains Fairtrade certified ingredients but is Caring Dairy certified, meaning that the delicious dairy that goes into your tubs doesn't milk the planet.
Fairtrade Chocolate Macadamia is available in 500ml tub snationwide at a RRP of £4.19 & in all Ben & Jerry's Scoop Shops