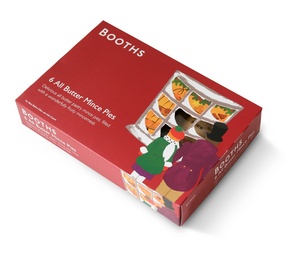 This year, celebrate Christmas in style with Booths. The foodies' favourite food stores have everything you'll need for the festive season, from Mince Pies and Stollen to Christmas Pudding and a range of Hampers.
Booths Large All Butter Pastry Mince Pies (£2.19 for 4 Pack) are filled with a wonderfully fruity mincemeat and contain real butter in the pastry, with no hydrogenated fats. Also try Booths Mini Mince Pies (£2.49 for 9 Pack) – perfect as a finale to the meal with coffee, or as part of a party buffet. They'll also keep the little ones happy. Also available in the range is a pack of 6 regular sized All Butter Mince Pies priced at £2.09.
Take a tip from the Austrians and serve a traditional Stollen this year. NEW Booths Stollen is a rich, fruity yeast bread filled with aromatic marzipan and topped with a light glacé icing. If you have friends and family staying over, it even doubles up as a delicious breakfast. For those that want a lighter sweet treat, pick up NEW Booths Stollen Bites priced at £2.89 for a pack of 12.
Need a gift for foodie friend? Booths has a fantastic selection of hampers containing all the essentials for the festive season. Booths hampers come in a variety of sizes, ranging in price from £25 to £100 and include everything from fine wines and beers to hand-made chocolates, seasonal pickles and jams, and pheasant Pate.
No Christmas would be complete without Christmas Pudding and more importantly, Booths' Traditional Christmas Pudding. Made with brandy, succulent cherries, almonds and walnuts, this pudding is bound to leave your guests wanting more. Available in four sizes 100g, 227g, 450g and 907g.
With a long tradition of excellent service and products, dating back to 1847, family-owned and run Booths is now a leading regional supermarket group with 26 stores across northern England and a speciality food store, Artisan, in Kendal. A new Artisan restaurant opened in Lytham St. Anne's in September 2007. For more information on Booths visit www.booths.co.uk