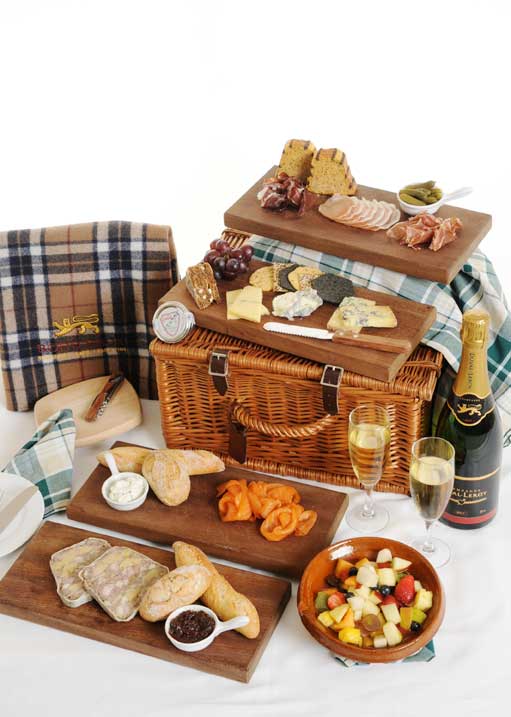 BORD'EAUX on Park Lane has just unveiled their first ever summer picnic hampers.
Helmed by Ollie Couillaud (ex-Tom Aikens and Chez Bruce), BORD'EAUX is now offering a selection of seven hampers for the gallivanting gastronome, to suit all occasions and pockets. The hampers start at £75 for the champagne hamper and go up to £195 for the 'Fabulous Bordeaux' (which includes Fois Gras, homemade chutneys, charcuterie or smoked salmon with Sevruga Caviar followed by carrot cake and washed down with a bottle of Duval-Leroy NV plus a BORD'EAUX blanket, china plates, wine glasses and cutlery). Picnickers with smaller appetites should try 'The Hyde Park Picnic' which includes Scottish smoked salmon, a selection of fresh breads, chef's summer salad and a selection of cheeses including Reblochon, Stilton and St Maure and a comfortable BORD'EAUX blanket. This delicious alfresco menu is complimented with a bottle of Chateau du Seuil, Cotes de BORD'EAUX two wine glasses and a fresh fruit salad for desert, all for £95 including VAT.
With stunning views over Hyde Park, BORD'EAUX offers a taste of the French Aquitaine in the midst of London. This summer, guests will be able to enjoy a truly alfresco BORD'EAUX experience for the first time and relish critically acclaimed food in on of the largest green spaces in the Capital.
You can download the complete Hamper menu as a pdf here