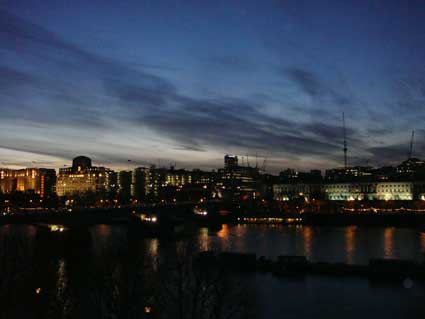 The weather held for this season's launch of the National Theatre's rooftop events venue, The Deck, which was built last year. This cool space is huge and completely timber-decked inside and out, with the structure itself tastefully decorated mainly in white with beautiful clean lines and glass sliding doors that open onto a terrace running the length of two of its sides. The views, both from within and from the terrace, are impossible to ignore. Principally of the north bank of the Thames, they reach from Victoria Embankment, west of Waterloo Bridge to the left and take in some of London's iconic buildings such as St Paul's Cathedral, the Gherkin and the OXO Tower to the right. You also get a fantastic bird's eye view of the Thames itself with all its activity.
Inside the structure is, we understand, sufficiently large to seat 90 covers for private dining, and has been used for corporate entertaining, as well as special events such as Wedding and Civil Partnership ceremonies.
Throughout the evening the waiting staff topped up glasses with seemingly never ending supplies of Champagne, which we drank (quite naturally) while other wines and cocktails were also circulating the room and terrace. We also sampled three of the dishes that we understand are available from The Deck's menu; a nicely dressed salad of mixed leaves and mushrooms, which was both tasty and refreshing; Sea Bass fillet that had been coated with a good dressing then wrapped in banana leaf and cooked perfectly on a barbeque, keeping it moist with the dressing adding to the flavour of the fish and combining with it well. Finally Beef Bourguignon served on a bed of mashed potatoes that had a full flavoured sauce, within which were crispy little nuggets of pancetta, good-sized pieces of tender beef and lovely soft baby onions. If these samplings represent the quality of the range of dishes on The Deck's menu, it is certainly worth considering for any event you might be planning.
If you want to find out more about The Deck, you can do so at www.nationaltheatre.org.uk/thedeck , or you can contact the management team at thedeck@nationaltheatre.org.uk . They are fairly well booked during June and July, but it is worth contacting them if you are planning something special during the spring, summer and autumn months.
akandpa
The Deck, National Theatre, South Bank, London, SE1 9PX| Website