Cameo at L'Atelier de Chefs? I dig out my best red codpiece and hurry along humming 'Word Up!' to myself. On arrival all I can see are apples everywhere and a bit of paper that explains that Cameo is a type of apple and not an 80's rap group. Blast, I got all Afro'd up for nothing.
Or actually I didn't as they're passing out tasty mini slices of toffee apple freshly made with the Cameo apple and these bring back happy memories of the fairgrounds of my youth. God knows what a modern dentist would make of those ancient toffee apples, easily capable of pulling a young boy's fillings out on the first bite and then, of course, there was always the joy of the rotten apple within to look forward to.
Cameo®, and as you can see we are now dutifully using the ®, is a rather special apple, it seems that Cameo® Caudle to be precise was discovered as a chance seedling growing in an orchard belonging to the Caudle family in Washington State USA in the early 1980's. Genetic research has indicated the variety is probably a cross between Red Delicious and Golden Delicious.
A cure for cancer?
And, as Adrian Barlow (Marketing Consultant for Cameo® UK) tells us, some researchers of the University of Bonn recently showed that Cameo® scores a high antioxidant capacity due to a high phenol content. Antioxidant activity helps to protect the human body from free radicals that may cause many diseases including cancer and reduced aging processes. Cameo® was among the highest of the tested apple varieties for exhibited total antioxidant activity. The only ones that were higher were inedible owing to their unpleasant taste. So as Adrian triumphantly points out, 'An apple a day really can keep the doctor away'.
Small tasting slices are handed around as Melvyn Newman a grower from Kent whose Cameo® orchards are the largest in Europe tells us about the trials and tribulations of being an apple farmer. I was rather hoping he would all be all ruddy-cheeked, in a smock and smelling slightly of cider but he was very smart and executive looking in a cool suit. He was offered 500 trees to buy in 1997 after he spotted the variety and liked the look of it. Now he has 30 hectares. He tells us that supermarkets strongly believe that the consumer, you and I, prefer a crisp apple even if softer ones have more flavour. Cameo® delivers the crunch and the taste and so is gradually creeping up on market leader Cox. Cameo® also stays crisp in the fruit bow; longer it appears.
Cod and crisp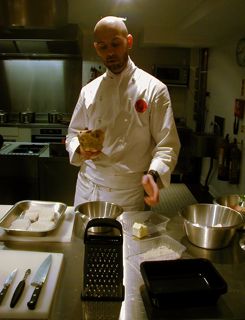 We're here to cook with it though, as this is L'Atelier de Chefs and Melvyn gamely sheds his jacket to join in. Chef Severin Basse with heavy Gallic sarcasm and humour takes us through the task of cooking Cod filet with a hazelnut crust garnished with celeriac and apple. A simple dish en principe but in our hands a bit less simple, grating a celeriac into thin strips using a mandolin is a quick way to lose a finger tip, but we manage.
Eating the dish later, and the fish is superb; the Cameo® comes through well served simply thinly sliced in a cartwheel on the fish. Even better is the apple stuffed with sweet spices.
As a combi apple – good for hot and cold dishes and for eating straight, the Cameo® is clearly a great apple and a good home-grown choice for the lunchbox or mid-morning snack. It was even voted 'Tastiest Apple at the National Fruit Show' so that rather proves its worth. You can buy Cameo® at all the big supermarkets. Word up!
Links