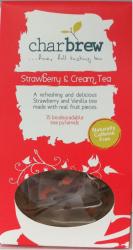 Having tasted three of the Charbrew range of four teas I'm a bit of a fan. These little bags of promise deliver some very bold vibrant flavours, that lingered on the palate after drinking. Charbrew teas contain some interesting ingredients including, among other things, lemongrass, coconut rasps, fruits, cardamom, beetroot and carrot, as well as whole leaves and flowers, in bringing together their range. The teas come in pyramid bags which, we are told, are fully biodegradable, having been made of specialised corn starch which allows excellent infusion and lets you see the ingredients that make up the individual Charbrew creations.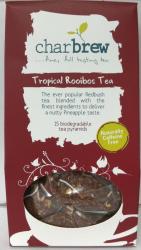 The first of the Charbrew range I tasted was the Tropical Rooibos, a caffeine free tea which is a development on the popular South African tea. The tea in its dry state has a heady fragrance of tropical fruits, notably passion fruit and citrus coming through very strongly. When brewed it retains its fruity bouquet and on the palate has a good round depth of flavour from the rooibos leaves. This amber drink then delivers lemon and orange with some cinnamon and then the merest hint of spicy heat in its length.
The Strawberries and Cream Tea hits your nose, as you open the packet, with a big bold concentrated strawberry and mellow creamy smell. Like the Rooibos this is another caffeine free infusion. The creamy strawberry aromas come through well once the bag has been steeped, making you anticipate a good fruity mouthful as you raise the cup. On the palate its a mellow drink but the principal flavours come through well with some vanilla notes in the background in this deep pink beverage. It doesn't disappoint at all.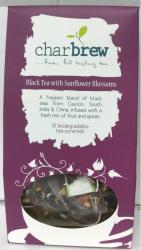 The Black Tea with Sunflower Blossoms, has a tangy peach and passion fruit perfume when dry. Once brewed in the cup the fruity bouquet is more subtle and on the palate you get a soft tang of lemon and orange, a deeper brown infusion, the tea has good depth and a clean vibrant fresh taste with a delicate spice to it and a little heat in its finish.
In making these Charbrew teas I used a half pint mug and followed the brewing instructions on the packets, erring towards the longer end of the recommended steeping times. All three delivered good full flavoured teas with great fresh liveliness to them. Those I tasted were excellent quality.
Charbrew is now available to purchase nationally, in all 46 Lakeland stores and Booths supermarkets, among other individual stores and has a RRP starting at £2.99 for a box of 15 tea pyramids. You can also buy Charbrew on line with free delivery for orders over £25.
For more information about Charbrew and to purchase on line, go to: www.charbrew.com