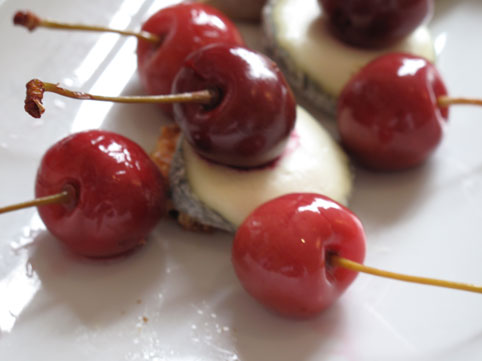 Life is not a bowl of cherries for Henrietta Green. The powerhouse behind www.foodloversbritain.com is up in arms about the decline in UK cherry orchards and the statistics are enough to give anyone the pip. In the last 50 years we've lost 90% of our Cherry orchards and now import around 95% of the Cherries we eat.
And so National Cherry Day was born. The idea is to get everyone in the country to try at least one British cherry, to save what's left of our cherry orchards and encourage the planting of new ones, to also encourage restaurants and producers to use British cherries and to celebrate the cherry on one specific day a year. Between 16 and 18 July there will be three cherry filled days at Borough Market, the big day falling on the 18th. There will be tastings of British cherries and cherry based products. At the same time many restaurants will be celebrating the cherry with special dishes on their menus, these include The Harrow Inn in Wiltshire, Tom Ilic in Battersea, Ann Hansen's Modern Pantry and the Bordeaux Quay. You can find the dishes at www.foodloversbritain.com
Bake your Cherry
There will be a cherry bake at Borough Market on the 18th where a panel of celeb chefs and experts will judge a winner. Make it sweet or make it savoury, just make something and make sure you use British cherries in your cakes, breads, sauces, jams or pies. Marks & Spencer are doing their bit by hosting British Cherry tastings at selected stores. For listings of all events just go to www.foodloversbritain.com and click on the Cherry Aid logo and do your bit to help make sure we don't all lose our cherries.