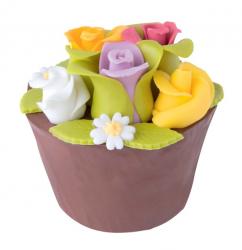 So, if you're unsure what to get your mum as a gift this Mother's Day. Asda might have created just the thing for you.
As we all know flowers and chocolates are the obvious Mother's Day gift idea and we all rely on them year after year. But this year Asda have combined both of these traditional fall back options many of us buy for our mums into one product, their three dimensional Chocolate Flower Pot Cake. The cake is both attractive and good to eat, so it's a win win situation.
Made with triple layered, chocolate sponge and filled with a good chocolate butter cream, this fudgy, moist flowerpot shaped and milk chocolate coated cake is a great gift for those chocolate loving mothers out there. Some of you might just want to get one as an additional treat for mum on this special day. It's an indulgent delight, that not only tastes good – we can absolutely vouch for that – what's more it contains no artificial colour or flavours, nor hydrogenated fats. The cake's decorated with brightly coloured fondant blooms which are both edible and look very attractive, it will undoubtedly put a smile on most mother's faces.
The Chocolate Flowerpot Cake is available in selected stores and priced at an affordable £10 and goes hand in hand with a range of three dimensional cakes now available in selected stores.
For more information about Asda go to www.asda.com