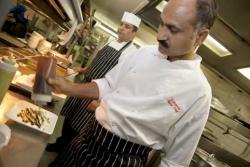 Here is one of the recipes from the new Saturday morning cookery classes at Imli, the Indian street food style tapas restaurant on Wardour Street. Led by Imli's executive chef Samir Sadekar, classes are for small groups (maximum eight) and are just as much fun for novice cooks as for more experienced home cooks.
Read more about the cooking classes
Makes 12.
Ideal as a starter (two each is plenty) or as a light lunch (three or four each, depending on greed).
Ingredients for the potato and pea cakes
300g boiled potatoes
100g peas (defrosted frozen are ideal)
5g coriander
15g ginger
5g green chillies
80ml light vegetable oil
salt to taste
Method
Grate the potatoes.
Lightly mash the peas (you want it to have some texture).
Finely shred the coriander.
Grate the ginger.
Chop the chillies.
Mix those five ingredients together (you can be flexible about quantities, adding more or less of each one as you wish) and mash them lightly so the mixture comes together but still retains some shreds of coriander and flecks of pea.
Add salt to taste.
Divide into 12 portions and fill 12 small ring moulds (Samir's trick for this is to slice a thinnish plastic bottle into rings; lightly oil each ring before filling them so the mixture slips out easily once flattened).
Heat a non-stick frying pan, add a little oil (use more oil if you are not using a non-stick pan) and fry the cakes gently till brown; turn them over and fry the other side.
Drizzle with Tamarind chutney.
Ingredients for the tamarind chutney (if you don't want to buy ready-made)
Tamarind paste
Water
Sugar
Black salt
Method
Add a little water to the tamarind paste and bring to the boil, stirring to amalgamate them.
Add sugar and salt to taste.
Simmer until the mixture is viscous.
Keeps in the fridge for ages.