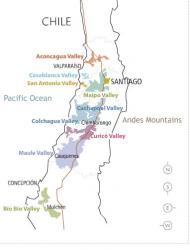 An old Chilean I met some years ago was surprised at my fondness for Chilean wines. 'We export all the stuff that isn't good enough for us!' he laughed. 'The real stuff we keep at home.'
That may well have been true back then, but nowadays Chilean wine is one of the leading New World types. Cono Sur, or Southern Cone, is a major producer with special emphasis on sustainability and good green practices.
Cono Sur were founded not long after I met that Chilean, in 1997, and are already one of the globe's largest Pinot Noir producers. They have 100 estates and 1400 hectares of vineyard with Pinot Noir being a grape they have focused on to produce very good wines at a very reasonable price point.
Since 2000 they have also moved 300 hectares to be organically certified and are the first winery in South America to achieve a double ISO certification: ISO 9001 for quality assurance procedures, and 14001 for environmental policies. Initiatives such as keeping geese in the vineyards to eat bugs rather than using pesticides, travelling around the estate on bicycle rather than tractor and using solar and wine power for winemaking processes are all part of the ongoing plan
Green is good but only if it makes good wines, Adolfo Hurtado Cono Sur's Chief Winemaker has made sure that has happened.
We tried their Merlot Reserva 2009, £8.99, which has that nice taper-shouldered bottle I am a bit of a sucker for. Interestingly it is a cork closure, not screw, which is perhaps odd for an organic producer. Quite a class act this, it's a full-bodied number that went perfectly with a roast chicken. The strong black cherry notes and not too muck oak, held up to the heavily stuffed chicken with our usual overload of garlic under the skin. It also cleansed the palate with a good tannin grip and a long finish.

A Reserva Pinot Noir was lighter, more fun, more suitable for the plate of pasta we rolled out (anchovy and broccoli sauce studded with slivers of dried chilli and moistened with cream). A good mid-week wine, the Pinot Noir was only slightly cheaper than the Merlot, around £7.49 making it a bit pricey but still a wine punching well above its weight for the price.
And just to see, we tried a white from Cono Sur. a Viognier which was lush with stone fruit flavours and a crisp acidity which made a good match for our Chinese Takeaway of Singapore Noodles. To grow the Viognier grape so far from its home in the Rhone Valley is quite an achievement. At the price, around £6.99, it's also a big old bargain.
If Chile is still keeping the best wines for themselves, they must be very good indeed because Cono Sur are making some remarkable bottles at a sensible price point. For the money the ones we tried trashed same price wines from other New World producers.
Cono Sur wines, in conjunction with urban gardening company Seed Pantry, are exhibiting at the Edible Garden Show in Stoneleigh Park, Warwickshire from the 18th-20th March. The show is the ultimate grow your own event, perfect for anyone passionate about grow your own, home produce or rearing livestock and poultry keeping.