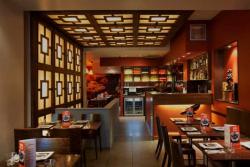 Learning to cook is all about building confidence. Knowing how to wield a knife in a rocking and rolling motion makes slicing and chopping easy and efficient; not knowing, and slicing off a sliver of finger, can put you off for life.
Understanding how to quarter a chicken – and how to carve it – leads to huge satisfaction on snitching the oysters as a private-treat or when devouring a poussin, say, leaving bones piled high and not a fleck of flesh left on them. (How many of us have watched friends hack away missing more cooked meat than they've eaten, regardless of appetite or greed?)
Assuming that Foodepedia readers are adept at the basics, it's not those skills we worry about; we've got them sussed. But what about using spice? Following a recipe is one thing. Learning the instincts that help you know whether a bit more of this or slightly less of that, or what mixed with which, will make a difference and, if so, what that difference will be is what we'd like to know.
At Imli, an Indian tapas-style restaurant in Soho, executive chef Samir Sadekar has launched a cookery class to help the uncertain get to grips with cooking Indian food, including using Indian spices. So I whizzed up Wardour Street with a spring in my step on what was an unusually lovely morning, keen to test my taste buds.
At first glance, the recipes seemed elementary, disappointingly limited. Where was the hearty curry to be cooked chucking in a bit of this and a bit of that Jamie Oliver or Keith Floyd style? I'd expected a full-blown show and to cook something more substantial. I soon learned.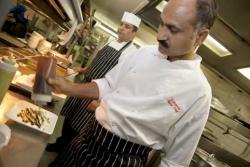 After a brief introduction to Indian food, as cooked at home by Indians, and reassured that my preference for sharing was totally authentic, rather than selfishly greedy, we watched Samir make potato and pea cakes. Everything was ready, of course – this was cooking restaurant style. Potatoes had been boiled and grated; defrosted peas were roughly mashed (no need to cook them first); ginger, chillies and coriander sat in small bowls grated, chopped and shredded. In the recipe we had in front of us the measurements were precise – but there were no scales to weigh our ingredients. We had to feel our way through, after watching Samir deftly flick in a pinch of this, add a spot more of that, with compulsory tasting and adjusting till the sign was clear – Samir's head tilted slightly and nodded emphatically.
It was our turn. It's surprising how nervous many of us were about quantities. The cakes were meant to look green – not as in green all the way through but giving the impressing of green. Too much potato and it looked pale and far from interesting; too much pea and it would be day-glow like chip shop mushy peas. We were told that the ginger should shine through, a surprise on the palate, and the chilli shouldn't dominate. But how much does that mean? All our cakes looked different and, if I have one criticism of the course, it was that I wanted to taste mine and no one else's – well, not until I'd tasted mine – but they were cooked together in one pan and keeping track of which was whose became tricky as Samir moved them round and turned them over. Delicious, though I say so myself (I may not have been eating mine), especially with a drizzle of Imli's tamarind sour-sweet chutney to balance the heat of the chilli.
It was easier to follow the route of my own slices of grilled stuffed paneer – I had split the slices (thanks to over-cramming in the stuffing) so they stood out in the crowd. We had more to juggle with this time, incorporating flavour and texture – toasted crushed cashews, finely grated pistachio nuts, chopped raisins as well as the obligatory ginger and coriander plus Kashmiri chilly powder (a gloriously strong red, used to add more colour than kick), chaat masala (for heat and flavour) and amchur powder (made from dried mango, it added a hint of sour). Be bold! we were told. Paneer is so bland the stuffing had to sing. My mixture was apparently the boldest – but it could have done with being more so.
Tackling pan fried Tilapia was a breeze. A spot of marinating (everyone's marinade was seriously different, I tried to make mine seriously spicy), a light dusting in semolina, flour, turmeric and chilli powder (to create a colourful crunchy coating) and a beady eye on the pan to make sure I tasted mine when it was done. A zingy bright green coconut chutney, whizzed up in front of us, brought it alive – essential for those of us who prefer a fishier-flavoured fish (to satisfy them, this recipe works very well with mackerel; and you could use the coconut chutney as a stuffing).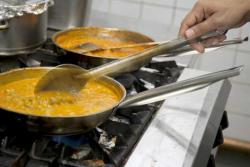 Then it was upstairs – for one of Imli's Indian street food tapas lunches. And, in a final nice touch, a potato and pea cake, a stuffed paneer slice and a fillet of tilapia each, left over from our session downstairs: thoughtfully slick, as you'd expect from the Tamarind group of restaurants (Imli is Hindi for tamarind).
Throughout we fired questions at Samir – all answered without hesitation and always with an expansive explanation. He's used to it; he's run cookery classes at The Good Food Show, The Restaurant Show and elsewhere. A cookery book next, perhaps? And we went home not only with the recipes but also with an Imli Club card (25 per cent off the a la carte menu, any time of day any day).
And all this for £45 – a fantastic birthday present for a foodie friend; perfect for a ladies-who-lunch day out; great for couples who cook together; and, from the laughter coming from my left, just as much fun for guys wanting to sharpen up their techniques in the kitchen. We went home with the recipes which I will certainly use again – for a weekend when a curry-loving friend comes to stay and for an impressive drinks party (if ever I hold one).
Classes: Run from 10.30am to 2pm. The menu changes monthly.
Spring dates: Saturdays March 26th; April 2nd, 9th and 16th.
More info and to book: www.imli.co.uk and 020 7287 4243
Recipes: See the Cooking section of the Foodepedia website for the potato and pea cake recipe
Imli Restaurant, 167-169 Wardour Street, London, W1F 8WR