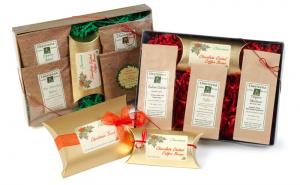 Coffee specialist Cherizena has launched a range of coffee-based gifts for the festive season. Costing between £2.50 and £20, their gift range is very reasonably priced, will suit most budgets and would appeal to coffee lovers anywhere. Cherizena's packaging has a kind of rustic charm about it, which adds both to its attraction and the authentic feel of the products. We tried some of Cherizena's coffee recently and they are indeed good quality beverages.
To start with the obvious one, Cherizena's limited edition Christmas Coffee, which features in gift packs. This coffee has aromas of rum and spice as you open the pack. On the palate it has a good fruity spiciness to it, reminiscent of Christmas pudding and mulled wine. This medium Colombian coffee also delivers hints of chocolate adding to its rich round taste. It's a warming spicy and full bodied coffee both with and without milk. Cuban Cubita describes itself as 'strong, earthy with caramel tones' and this is pretty much on the button, it has a good deep flavour and a slight bitter bite to it, this is softened but not dulled by the addition of milk, with which the coffee becomes rounder and more subtle. Blue Mountain Blend is described as medium strong full bodied and yes, it is. It also has an earthiness to it, a good round flavour with some nice body, similarly, it is softer with milk, becoming a gentler, more voluptuous drink. Turquino Montanes, boasts that it is aromatic and rich with honeyed undertones and it does have a richness to it, there is also a honey hint, though it has a good bitterness rather than sweetness, this is mellowed by the addition of milk which develops the flavour making it rounder and accentuating the coffee's body. And finally the Espresso Blend, described as very strong & dark, is a powerful coffee with a tempered bitterness, this is a big cup of coffee either black or white.
In addition to these five coffees we tried the 'pillow pack' of chocolate coated beans. Covered in good quality plain, milk and white chocolate, they were lovely and crunchy, the chocolate balancing well with the nicely bitter bite of the roasted beans working together in the mouth. They are delightful and very moreish.
There are a number of different gift packs for you to choose from or you can simply select from the full range of products on their site. The Cherizena gift packs are nicely presented and will appeal to anyone who is a lover of good coffee. What's more they claim that all their gift range packaging is recyclable. With up to 30 single origin coffees and blends, and 20 different flavoured varieties the Cherizena site is a must for those of you who are into coffee. You might just want to stock up your own store cupboard for the festive season and beyond, as well as finding that perfect gift for a friend or relative.
Cherizena products are available by mail order. To view their full range of products go to www.cherizena.co.uk