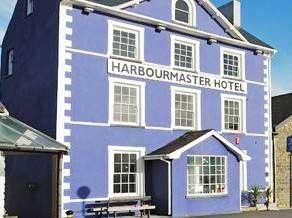 Having a cracking restaurant within a short car journey when you're away from home is handier than a pocket on a shirt. That's precisely what I have when my path leads me back to Aberystwyth. A short drive along a coastal road and you arrive in the seaside town of Aberaeron, once one of the main trading ports along the Cardigan Bay coast.
My destination was The Harbour Master and I wouldn't be surprised if you'd already heard the name. Many a food writer has passed through the doors to dine in this fine establishment, which delivers dishes using the best of locally sourced produce and adding a pinch, no actually, two handfuls of customer service.
I've eaten here before and never left disappointed or hungry, but now I have a food writer's hat on my bowling ball of a head, so would I be more fastidious? I couldn't let my established fondness cloud my judgement. Like a midget at a urinal, I was going to have to be on my toes.
It's cold enough to freeze the balls off a brass monkey at the moment in mid Wales. I've not seen any snow, but from the amount of mindless social network updates of 'omg, snow, lol" I gather it's also cold elsewhere in the country. I'm wrapped up warm, as is my accomplice, Bee, who had never been to The Harbour Master before.
We arrive in good time and have a pre-dinner drink in a modern-style front bar, heavily kitted out with wood and a large front glass window that permits gazing over the harbour. It's modern but at the same time it has the feel of a harbour side café, not forgetting its roots, simply adapting to the times.
We move through to the impressive dining room, containing a variety of blues that are bolstered by the dark wood. Our table is directly next to the fire, so Bee practically dives for the seat away from the fire, while I am left sweating like a nun on a penguin shoot. I don't mind. It's nice to have a little heat.
I begin with a starter of Cardigan Bay crab spring rolls with tamarind ketchup. Cracking the wafer thin outer pastry shell unleashes a fresh crab dressing that's rich, creamy and packed with flavour. The tamarind ketchup is an added tangy bonus to the rolls that could easily be eaten alone. However these rolls are served on mini lettuce leaves lined with a pinch of herbs that keep the palette clean. They're easily some of the best spring rolls that I've eaten and I happily decline Bee's invitation to try her starter. There's no way a scallop for a spring roll is justified in food currency.
Main course is a roast Monachty pheasant that's been shot less than three miles away. It's served with crushed celeriac, sprouts and bread pudding. The knife doesn't do the pheasant justice as I thought it might be a little tough, but as soon as the meat hits the tongue the juices make the taste buds busier than a one legged man in an ass kicking contest. The sprouts are al dente and provide a nice earthy element, whilst the soft bread pudding combines perfectly with the crushed celeriac.
My normal indulgence of crème brûlée has run out so I opt for treacle tart with ginger ice cream. I like honey and ginger ice cream, but plain ginger ice cream usually leaves me with a face like a bulldog licking a nettle. There are other flavours available, and the waitress seemed like she was reading an Oscar speech when I asked what they were, so I chose to get off my high horse and take what the chef had matched to his dessert. I hung my head in shame for having asked what the other flavours were as the ice cream was the perfect accompaniment to the warm, soft treacle tart, very gooey and very tasty.
It's a winner all round, and they even stock my favourite plonk too amongst a range of rather impressive wines that are pleasantly listed at very un-London prices. Despite being more fussy and trying to find fault with something I'm lost to point out any glaring mistakes or any flavour combinations that don't work. A quick double check with Bee verifies my opinion that it's been a good evening and we've eaten bloody well.