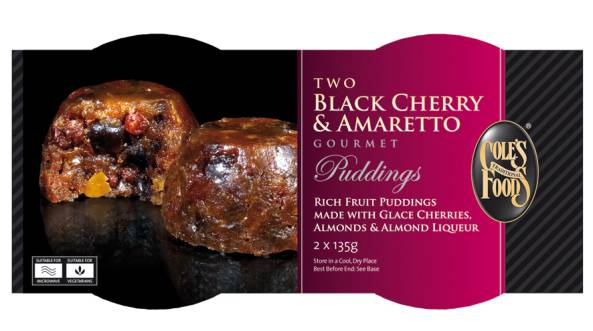 Cole's Traditional Foods are launching a new pudding range that looks set to further consolidate their position as the UK's leading supplier of gourmet puddings made with traditional and authentic British recipes.
Their new delectable Black Cherry and Amaretto 450g single pack pudding, also now available as a 2x 135g twin pack have earned rave reviews when they were trialed at trade shows and their new offering looks set to compliment their existing range of quality puddings which have long been seen as the best in the industry.
Cole's Traditional Foods is a family run firm, celebrating its seventieth anniversary this year. It has a reputation for excellence and its range of festive puddings and all year round specialty cakes are stocked nationally from Harrods and Selfridges to the National Trust shops throughout the UK, as well as in the Windsor farm shop. Tradition is a byword in their company and is at the heart of everything they do.
The Black Cherry and Amaretto Pudding is based on a contemporary recipe created using whole black cherries steeped in amaretto liqueur and finished with flaked almonds and is the perfect dessert for any occasion. A modern recipe made by Cole's, as ever, using the traditional methods that make them a bastion of the UK pudding industry.
For more information on the history of Coles Traditional Foods and to see the whole range, please visit www.colestrad.co.uk