If you've never come across Comté, France's most popular AOC (controlled designation of origin) cheese, it's likely you will soon.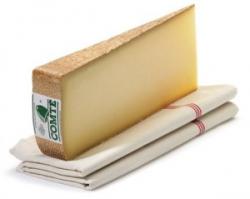 Indeed, despite the resounding lack of an Indian Summer – for which its producers claim it would be perfect – the semi-hard unpasteurised cow's milk cheese is rapidly becoming more popular in the UK with the likes of Raymond Blanc and Gwyneth Paltrow recently singing its praises. It is also set to feature in a major BBC programme on French Cooking in January next year.
It is clear that these high profile endorsements have been heeded by the masses with Brits eating (or at the very least buying) 170 tonnes of Comté last year.
Whilst this figure may seem small when compared to the 40,000 tonnes of the cheese produced annually, it is likely to grow considerably as British consumers become aware of it.
This is largely due to the fact that Comté is such a versatile cheese, its strong, slightly sweet flavour rendering it an ideal accompaniment to red and white wine alike. It is also a welcome addition to any cheeseboard and does wonders in salads and sandwiches.
So, if you enjoy the feeling of having liked something before it was cool, buy Comté now: it's unlikely to remain a niche product for long.