Oh what a sophisticate I am. While doing the rounds of Ricker restaurants the other week, not only did I tip half my emerald wasabi cocktail into my lap (sober, believe it, just spatially challenged), I also admitted to being unable to use chopsticks, much to the shock and awe of my fellow diners.
A Foodepedia reviewer using a FORK in a pan-Asian restaurant? Well, yes. Patience has never been one of my strong points but I await Ricker's masterclass in chopsticks (hint) with yearning.
The occasion was the relaunch of Will Ricker's Great Eastern Dining Room in Shoreditch which now has a new menu and a new look by Martin Brudnizki Studio. Among the dark wood were jewel-coloured armchairs in velvet which we swerved in favour of the dining room.
We tried a few pinches of mains. The blackened cod with sweet miso was my favourite, gooeysweet on top, and the rare beef Bulgogi was good. Not so keen on the lychee and butternut squash curry – a bit mild and anglicised for me but may be OK for the crowd.
There were some delicious starters, however, at Eight over Eight in Chelsea. Apparently this place is a hit with the yummy mummies who (*delight*) have no idea the salads they wolf can contain fatty lashings of delicious palm sugar – v. common in south-east Asian foods – not that they care, what with debating the next buggy brand to adopt.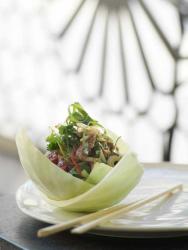 Not deterred, and being no yummy mummy but tummy dummy, I tried loads of their salads. We had some wonderful Thai beef salad, with lots of lime and mint, very refreshing and some focused cod and king prawn gyoza. There was also a sweet prawn, chicken and pomelo salad with lots of coriander and spinach, mushroom and waterchestnut dumplings.
We ended up scoffing salted squid and chilli at Ricker's Cicada in Farringdon, sitting on the terrace and pretending the media hordes weren't on the other side of the bushes. All the Ricker restaurants, despite serving pan-Asian, cater for very different crowds. I sat and pondered which one of the three I belonged to.