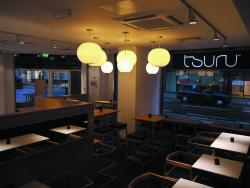 Tsuru, Bankside, 4 Canvey Street, SE1 9AN, Bishopsgate, Broadgate Plaza (off Primrose Street), EC2M 3AB and Mansion House, Aldermary House, 10 Queen Street, EC4N 1TX. http://www.tsuru-sushi.co.uk/

There is a dribble of soy sauce on my wine menu. In most situations, I would consider this very wrong. I'm a beer-with-my-sushi kinda guy, so a wine list anywhere near my raw fish is either a mistake or a shield against A's habit of dropping dumplings from a great height. This time, however, it is very right. This time I'm staring intently at the condiment-spattered list wondering which of the five wines on offer is coming next. Today is an exception, because we're trying the new wines coming to Tsuru, which has three branches across London.
Ever since I discovered the joys of tuna sashimi, salmon roe maki and soft shell crab rolls about 10 years ago, I've always been a beer drinker. I think, even at 7am in a sushi bar just outside Tokyo's famous Tsukiji fish market, I tucked into a bottle with a friend. It just seemed to fit with the grab-a-quick-bite approach. But why shouldn't you savour your drink like you savour your sushi?
Emma Reynolds, one of the owners of Tsuru, which now has branches in Bankside, Bishopsgate and Mansion House, has long been a fan of the combo. And tonight it's easy to see why. Using free range chicken, sustainable fish and 'almost entirely recyclable' packaging, Tsuru was never going to go any other direction than organic and biodynamic wines.
We try natural wines from France, Spain and Chile, with a rolling commentary from Les Caves De Pyrene's Phil Barnet, alongside plates of sushi, chicken gyoza, karaage and tempura. My favourite and, incidentally, the most expensive on the menu, the Vouvray la Dilettante 2010 was a beautifully refreshing and fruity white that reminded me of the fantastic English Nutbourne vineyard's Bacchus with its elderflower perfume and palate. A close second, eaten with the chicken karaage, was the more robust and fruity Estezargues 'Les Galets Rouge', while we also tried a De Martino Sauvignon Blanc 2011, from Chile, a French Reserve de Gassac Blanc 2010 and a Gran Cerdo Tempranillo 2009, from Spain.
We drink the three whites on the menu, the De Martino Sauvignon, the Gassac Blanc and la Dilettante, with the lighter food menu options, sushi and some sashimi, while the remaining reds come later in the meal, as we tuck into gyoza and chicken karaage.
The wines ranged from a reasonable £14.95 to a pricier £24 for the biodynamic Dilettante, not cheap if you're just popping in for Tsuru's much-talked about Katsu curry or a quick bite of sushi, but certainly affordable if you're taking things slow and are out for the evening.
We finished off with Tsuru's epic brownie – thoroughly sated, fed and most definitely watered. And, amazing for me, there wasn't a drop of beer in sight – just dribbles of soy on my wine list. And you know what? I could get used to it.
Tsuru's new natural wines are now available