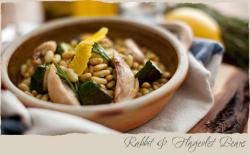 It's been a very busy few weeks. Staring at my laptop being creative for up to 12 hours a day means less time for getting creative in the kitchen, which in turn means there is no better time to reach for a ready prepared meal. Handy then that David Oliver Fine Foods should have sent me their entire range to try.
In normal circumstances reaching for a ready meal is a last resort. I have to be feeling flush, completely brain dead and numb from the waist down before I'll concede that Sainsbury's can make a better chicken jalfrezi than I can and head for the lazy aisle.
The primary deterrent is the inevitable disappointment. For all the luxuriant pack shots and drooling descriptions, what's inside the box is never the same as what's promised on the outside and invariably caters for those with midget appetites. How intrigued am I then to spy that David Oliver's Guinea Fowl & Lentils, one of four dishes in the range, weighs in at a hefty 390g with a
generously sized roasted breast fillet lying atop a mound of Puy lentils, smoked bacon lardons and hunks of carrot.
It's all looking very promising. The packaging is nicely done with a ring of the well-heeled Sharpham Park about it and the stylish pack shots on the accompanying flyer really do get the juices flowing. The ingredients list on the back is pleasingly free of synthetic additives and preservatives and all reads extremely wholesomely.
The only thing that gets my bullshit antennae twitching is the claim to be 'restaurant standard'. For a start if I went to a restaurant and was offered four variations on a game hotpot I'd feel a bit shortchanged. It also seems slightly cock-sure for a start-up ready meal brand to aim for restaurant status as opposed to gastropub or bistro, where this kind of food sits more comfortably. Still I appreciate them setting the bar high.
All the dishes are for cooking in the oven, not the microwave, so if you can hang on for 20 minutes instead of the usual four and a half the pay-off is worth it. Plated up the guinea fowl is substantial and not in the least bit dry. The carrots and lentils are just right, not mushy, and gently flavoured with chicken stock, white wine, garlic, thyme and Dijon mustard. The bacon is a tad too salty but I can cope. No one ever needed to add extra salt to a ready meal.
Overall I'm impressed. And full. I don't feel like I've just ingested five quid's worth of fake factory fodder. I feel like I've eaten at the table of a ruddy-cheeked farmer's wife who has made sure I've had two of my five portions of veg a day, which indeed I apparently have. How easy was that?
Never one to get excited over a beef stew I gave the British Beef & Dorset Ale with potatoes, vegetables and thyme to my 6'1" boyfriend. Again, designed to be a complete meal in one, it contained mushrooms, swede, turnip, carrots and potato and didn't need bolstering with bread or extra anything but his sole complaint was that it was too dry. Not enough gravy. A simple niggle to put right I would have thought.
A Classic Venison Stew was meltingly tender and very tasty with the addition of sweet potatoes, smoked bacon, shallots, redcurrant jelly and Spanish red wine (what's the secret there then?) while the Rabbit & Flageolet Beans was perhaps the most eagerly anticipated of the four, being something I'd never think to attempt at home.
Lighter and more summery than its stewy bedfellows, I was pleasantly surprised to see the rabbit in pieces, off the bone, and again beautifully cooked. The beans were accompanied by crisp courgettes, dressed in a savoury stock of white wine, garlic, rosemary and lemon. While th lemon zest undoubtedly elevated the dish it became overpowering in places, probably due tothe unnecessary back-up of lemon juice concentrate. But no discards and only a fork required.
Lovely.
Priced at between £5.25 to £5.45, I think the David Oliver ready meals represent good value for money and if I saw them in my usual haunts I'd be inclined to buy a couple and bung them in the freezer for those numb, exhausted evenings. However, at the moment they are only available through www.davidoliverfood.co.uk and selected farm shops across the south, which demands extra effort. Should you find them, do buy and try. I don't think you'll be disappointed.