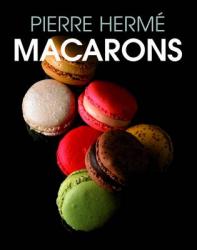 Until recently cupcakes were the confectionery of choice for all and sundry. An inexplicable and quite frankly unwarranted mania surrounded these miniature cakes. Now the macaron is de rigueur for any discerning fashionista, but not just any will do. Laduree is one brand deemed chic enough for consumption. The other is Pierre Herme, who it is claimed 'reinvented the macaron'. Considered less touristy and more modern than Laduree, Herme's book provides an insight into his creative process as well as some intriguing recipes.
Written by a man who was described by Vogue as 'the Picasso of pastry', Macarons is the eagerly awaited English language translation of his best selling French book. Herme's reputation has been built on both the quality of his patisserie but also his willingness to experiment with modern and unusual flavours, as demonstrated by the recipes in the book.
These range from classics such as lemon or chocolate to a section entitled 'Fetish Macarons", featuring exotically named treats such as 'Infinitely Vanilla' or the 'Sarah Macaron', a chestnut and matcha green tea combo inspired by trips to Japan. His one off or 'haute couture' macarons journey further away from what would be considered traditional flavours, the most obvious examples being the ketchup or foie gras numbers. Yet even the seemingly simple classics may make you wary.
For macarons are notoriously tricky and can wrong foot even professional bakers. I don't do much baking myself, requiring as it does a level of precision somewhat lacking from my everyday movements but the books incredibly detailed recipes and step by step guides mean that I would feel more confident approaching the task.
One particularly useful aspect of the recipes is the separate info on preparation cooking time, avoiding that horrible feeling you get half way through a recipe when you find the dreaded sentence 'leave for a day",leaving your dinner for the evening ruined. Yet the level of detail in the book also highlights the huge number of potential pitfalls.
Whilst Herme claims his ten year old daughter successfully followed the recipes, this book is obviously aimed at serious bakers and macaron maniacs. It's also the sort of book that I have found myself showing people repeatedly since I got it due to the quality of the photography.
If I had a coffee table, I would be happy to artfully arrange the book just so, creating a sense of subtle sophistication. From the opening photos that accompany the instructions to the photos of the macarons themselves the photography is stunning. Anybody who manages to make over fifty photos of different coloured macarons interesting has to be given credit.
I can think of no better way to end this review than with a quote from the book, by Ingrid Astier, a French chef. A macaron is 'a swashbuckling adventurer. It's a rebel that's fallen out with all the other petits fours to forge its life among its own people on a totally different planet. That's what makes it a winner and eminently loveable: it's rebellious but Protean at the same time.' What more can I say?