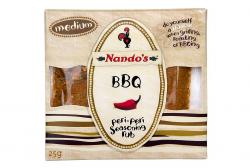 You thought you were safe, didn't you? 'It can't get me here', you thought, 'Not in my own home, not in my own kitchen!'. But you were wrong, for like a giant chicken behemoth, Nando's reared its feathered head in the supermarket, packaged and ready to be taken back to your Great British home.
I know people who are obsessed with the Portuguese chicken restaurants, friends who would be only too happy to mug their own grandmother if they found out she'd been handed one of the legendary black cards which allow you and four friends to eat at Nando's for free for a year. One friend would happily have had her wedding there. And yet I've never really understood its success.
I think I've admitted once before I'm a bit of a food snob these days. I used to laugh at what I considered the 'organic' marketing scam. 'All for the silly, bored housewives' I thought, but now I can't buy a chicken unless it says on the packet that it has been reared in 5-star under-floor heated coops, fed golden grains and received daily massages from the hen's personal masseuses.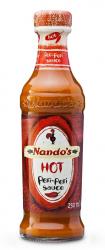 But I've never seen anything about organic or free range chickens near a Nando's restaurant, although they say they don't use battery hens and do have them barn-reared. What Nando's are doing is something that keeps people coming, and they're doing it very, very well. I've been in a few times myself and enjoyed it, despite my organic chicken obsession. It's simple but it's decent and clearly effective.
The company also brought out its own sauces and marinades so you can try out some of that PERi-PERi action at home. The ubiquitous 'HOT' (clear packaging, tick) PERi-PERi sauce is fruity with plenty of lemon and a good addition with chips. We have them with courgette chips, good again, while Nando's suggest mixing it with hummus to make a spicy dip. We also try the PERi-PERi bbq sauce with the same chips and again, it's nice, quite sweet and A says there's a lot of tomato although I can mostly taste a smokey sauce that wouldn't be out of place on ribs or as a marinade for chicken pieces. Then there are smokey bbq PERi-PERi (are you seeing a pattern here?) crisps which are decent but probably not something I would buy over Phileas Fogg or Kettle Chips. A hot seasoning rub for chicken and other meats I probably would buy again, though. Sweet in parts, salty in others with a kick of heat and herbs and spices thrown in, all meant I thoroughly enjoyed my five-star organic chicken, and all without the guilt.