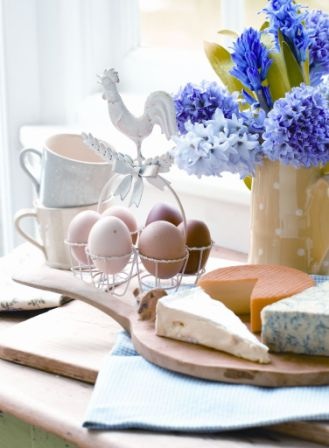 If fine food and drink excites you then a visit to the Country Living Magazine Spring Fair will be sure to live up to your idea of foodie heaven. Food is one of life's great shared pleasures and the Fair will offer an array of seasonal delights from a selection of the UK's best food and drink producers who are passionate about fresh, seasonal and local produce. The Country Living Magazine Spring Fair takes place from 11-15 March 2009 at the Business Design Centre, Islington, London. From handmade chocolate and cheeses to oatcakes and organic produce, there is a wide variety of foods to suit all tastes and visitors can try before they buy!
Here's a taster of who will be exhibiting at the Fair and the scrumptious food finds that will be on offer to tempt you:
Stoats Porridge Bars
Tony Stone, has revolutionised the world of porridge with his good friend from school, Bob Arnott. They began with an idea in 2004 to launch the world's first porridge bar in Edinburgh, and since then they have grown to provide the best fresh porridge at farmers' markets, music festivals and through retail outlets across the UK. Stoats porridge is made from a unique blend of Scottish organic oats and is served in a range of tasty flavours including brown sugar and cream, Scotch malt whisky & honey, white chocolate and roasted hazelnut, 'Cranachan', a mixture of raspberries, sweet toasted oats and cream or for the true Scotsman 'The Stoater' – the original salty porridge which is made the way it used to be. They also sell a range of 8 delicious chunky porridge oat bars, packed full of nutritious oaty goodness – perfect for a quick and tasty energy boost.
Higgidy
In 2003 husband and wife team, James and Camilla Stephens decided to start a gourmet pie business, specialising in making the tastiest, meatiest pies around. Every pie is handmade and because of its rugged and imperfect appearance, got the name Higgidy. Set in the heart of West Sussex, Higgidy's skilled and dedicated team of cooks and pie-makers create the great British favourite, using only the finest of local ingredients and freedom certified meat, encased in delicious golden puff pastry. Fillings include British beef with stilton & ale, lemon chicken with bacon spinach & lentils, free range pork sausage with mash. And for those who can't quite manage a hearty man-sized pie, Higgidy have introduced a range of 'Skinny Pies', these saintly savouries are lighter than the original pies, but are just as delicious and ooze with wholesome and nutritious ingredients. Higgidy are passionate about their pies and take great care hand making each one, avoiding all nasty chemicals, additives and preservatives that are commonly found in much of today's prepared food.
The Gourmet Chocolate Pizza
Very few people don't enjoy chocolate and it's no surprise that Britain is amongst the biggest consumers of chocolate in Europe. For those true chocoholics out there, The Gourmet Chocolate Pizza brings you a whole new taste revelation with their handmade solid Belgian chocolate pizzas. Helen Ellis is the woman behind this chocolate revolution, her desire was to create a new chocolate idea that everyone and every age can enjoy. Her combination of the finest Belgian chocolate and a variety of delicious toppings from marshmallows to coffee beans, mixed with plenty of imagination and flair is her secret behind this ultimate indulgent treat. Each pizza is laced with a thin layer of white, dark or milk chocolate and generously topped with an array of sweet treats. Gourmet Chocolate Pizzas come in a range of different sizes from a manageable 7" to a lip smacking 12" and each pizza is presented in an authentic pizza box.
Tyrells Potato Chips
Having travelled the world in the late nineties in search of the perfect potato chip Will Chase brought his new-found knowledge back to Tyrrells Court Farm and launched a product that unbeknown to him would soon become one of Britain's favourite premium snacks. Passionate about potatoes would be one way of describing Will and the team at Tyrrells Potato Chips, since 2002 they have been growing their very own potatoes and turning them into delicious chips at the Tyrrells Court Farm set in Herefordshire. Tyrells chips are like no other, they come in a range of more-ish British flavours including beef & horseradish, ale & cheese, Ludlow sausage with mustard and roast lamb with Shrewsbury sauce. Potato chips isn't all Tyrells make, they also have a passion for root vegetable chips which include beetroot, parsnip and carrot, a great and tasty way to get one of your five a day. And if you like to dip your favourite chip, Tyrells have that covered too with their wonderfully rich and delicious dips, choose from caramelised onion, hot red pepper or tomato and sweet chilli.
Choi Time Teas
Hailed the 'dom perignon of the tea world" Choi Time Teas don't only offer a fabulously refreshing pick me up, but they are also bursting full of anti oxidants. Choi Time is a luxury high-grade Chinese tea specialist, offering a selection of loose-leaf Chinese teas which delicately blossom in water releasing an inviting composition of flavours. The delicate aromas of Choi Time teas can make a world of difference to your well-being and with varieties ranging from green tea to damask rose and jasmine pearl, there is a tea to suit all tastes. Sip a few cups a day for a simple and enjoyable way to an invigorated and new you.
Ticket prices
Advance Door
Adult £11.50 £15.00
Adult (Country Living Subscriber) £10.50 £15.00
Gala Evening £11.50 £13.00
Gala & Sunday Shop £15.50 £18.00
OAP n/a £11.50
Child 5-16 £7.00 £8.50
Under 5's Free Free
For further information and to book tickets, please visit www.countrylivingfair.com or call 08448 480 158.