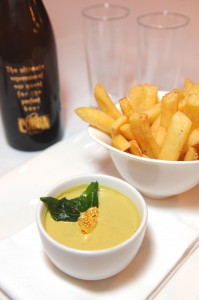 There's still time to try a perfectly 'posh' accompaniment to the great British chip with one very special ingredient: gold.
As almost a fifth (17%) of Brits admit to loving nothing more than dipping their chips in curry sauce and it's revealed that the nation spends nearly £400 million a week on curries, Cobra, the made-for-curry beer, has joined forces with renowned Indian chef Cyrus Todiwala* to create the Connoisseur's Curry Sauce.

Glistening with gold leaf, the Connoisseur's Curry Sauce is worth £36 a portion – 36 times the price of the commonplace curry sauce found in 'chippys' across the UK. Using only the finest ingredients on the market – including Morel mushrooms costing £150 per kilo – this premium curry sauce is guaranteed to wow the nation's curry lovers and chip fans alike and undoubtedly be crowned as the king of the curry sauce.
In fact, Cyrus is so proud of his creation that he will be selling it in his award-winning restaurant, Café Spice Namasté, throughout National Chip Week in celebration of one of the nation's favourite foods.
Cyrus Todiwala, Executive Chef at Café Spice Namasté, comments: 'We're a nation of curry connoisseurs, so it felt only right that I team up with Cobra Beer to create a sauce guaranteed to both complement the great British chip and tantalize the most discerning of taste buds. I've created a rich, unique and luxurious curry sauce which I'm confident will delight my customers as well as curry fans cooking up a storm in their own homes."
Connoisseur's Curry Sauce and British-style chips will be available at Café Spice Namasté for a special price of £7.25 until 21st February)=. Each portion will be served with King Cobra****

===
Curry fans don't need to dine out to experience the ultimate in chip-curry sauce pairings though. Anyone wishing to impress their friends and family with their currynary talents will find Cyrus Todiwala's Connoisseur's Curry Sauce recipe below.
~~~Cyrus Todiwala's Connoisseur's Curry Sauce ~~~
'To celebrate National Chip Week I've teamed up with Cobra beer to create this rich, unique and luxurious curry sauce which is guaranteed to both complement the great British chip and tantalize the most discerning of taste buds. Even better, this simple and versatile sauce can be easily stored in your refrigerator for up to five days and makes a delicious cold dip as well.'
Ingredients:
2-3 fresh or dried morel mushrooms
50gm ground almonds
1 tin coconut milk
2 heaped tbsp butter
1 or 2 green chillis (depending on taste) – slit into 4 lengthways
2 garlic cloves – peeled and very finely chopped
1 small banana shallot – very finely chopped
1 heaped tsp good English smooth mustard
1 level tbsp madras curry powder
1 heaped tbsp fresh coriander – chopped
1 sheet gold leaf
Equipment:
1-2 litre capacity casserole or saucepan
Strainer
Blender/ liquidizer
Wooden spatula
Heat resistant scraper
Bowl
High spirits (for the enjoyment)
To serve:
A portion of your favourite chips. For the ultimate homemade chip, why not try Heston Blumenthal's triple-cooked chips*
King Cobra – best served shared and ice cold
Method:
Clean and chop your morel mushrooms into very tiny pieces. If using dried morels, soak them for a while (or as instructed on your package) drain and chop
Puree the ground almonds with the coconut milk and set it aside ready for use
Take the casserole or saucepan and heat it on a medium flame
Add the butter and, once melted and foaming, add the mushrooms and sauté for a minute or two. Drain over a small bowl in the strainer
Return the butter to the pan and add the slit green chillis. Sauté for a minute or two, then add the finely-chopped garlic
As soon as the garlic turns pale add the finely-chopped shallots and continue to sauté for a couple of minutes until the shallots turn pale
When the shallots turn pale add the chilli powder, incorporate the pureed almonds and coconut milk – stirring until well blended
Bring to a boil and simmer for three to four minutes before adding the mustard paste
Remove from the cooker and add the sautéd mushrooms. Keep mixing until the mustard settles down – this might take a minute or two
Check the seasoning and see that it is to your liking
Now add the chopped coriander and stir it in – ensuring the mixture is blended into a smooth sauce
Finally, garnish with a flourish of gold leaf before serving with a portion of your favourite chips and a glass of ice cold King Cobra.
*Heston Blumenthal's triple-cooked chips: http://www.potatolovers.co.uk/content/recipes/info/?id=65