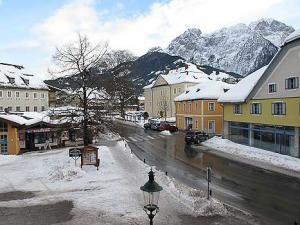 I can hear someone alternately screaming and laughing as my Enid Blyton-ish single seat toboggan rushes down its one and a half mile run. It's me. I haven't had so much fun since I was a kid, alternately scared witless, as the thing takes corners at what seems like 100mph, and entranced as I slow to take in the vista of Abtenau village at night as seen from the top of this wonderful toboggan course high up in the mountains.
I'm not normally a winter sports person, to be honest. When I was growing up such a concept was foreign to our family. My father said 'Winter? Holiday?' in the much same way Peter Kay's father said 'Garlic? Bread?' Our holidays were always and only beaches in Spain; two weeks in summer as regular as clockwork all capped off by my father triumphantly coming back through Nothing To Declare with 600 excess Duty Free Rothmans buried in my suitcase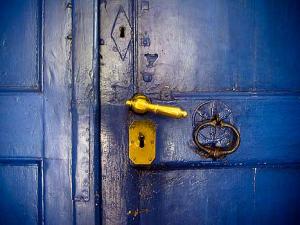 So this last weekend has been a bit of a revelation. Abtenau is about 30 minutes from Salzburg airport and is gloriously unspoiled by braying London ski bunnies. Instead it's a family resort much loved by locals and Austrians alike. The ski lift, located about ten minutes walk from the pretty square where the hotel is located, whisks you up to Karkogel at 1200m in a choice of dangly leg type lifts or closed pods. Once there you can cosy up in the chalet cafe for an apple strudel and coffee, ski down again of course, or take your hired sledge to the special dedicated run which is great fun by day, but the night time run is even better. Nothing but your boot heels for brakes and the good Lord to keep you safe.
We did our fun run after having first consumed a massive and delicious meal at the 4 Star Hotel Ocher Rochs in Abtenau, in fact to be honest it was the lure of the food that made us decide to spend a weekend break here in the first place, that and the promise of healthy exercise and fresh air.
Packaged holiday, a gift for a short foodie break
This hotel is offering some remarkably good deals, with packages to suit everyone. Ours included a 5 course tasting menu with matching wines on the Friday night on arrival, as well as half board, ski lift passes, the toboggan run, a horse drawn carriage in the snow and a hike with guide around the nearby ski area of Postalm. The hotel is large and spacious and run by friendly people. It's all geared up for winter sports with a drying room for boots as well as a spa and sauna in a neighbouring building accessed by a tunnel under the road. That way you don't have to expose yourself to the cold or, considering you're only wearing a bathrobe, expose yourself in general.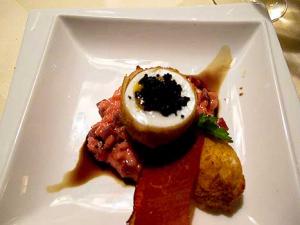 The five course meal was remarkable. I rather (sadly) assumed that Austrians could not cook, but 24 year old Bernd Fritzenwallner works wonders in a kitchen that he runs virtually single handed. Not only was he cooking our special meal, he was also sending out meals for 70 other guests too. He clearly has a great future ahead of him to be so competent and creative so early in his career. Beef Carpaccio with Arugula Parmesan salad and pickled mushrooms came with a lovely Tinnauer Welschriesling which also accompanied Carrot and Ginger soup with crunchy shrimps. A good warming soup, but a little heavy on the cream at the expense of the carrot.
Baked Caviar Egg on beetroot risotto with bacon chips with a Langmann Weißburgunder (Pinot Blanc), a gently fruity wine with some mineral traces, was a visually impressive dish that had called for a lot of competence in the kitchen. Hard to believe we were eating this in an Austrian village and not in Mayfair.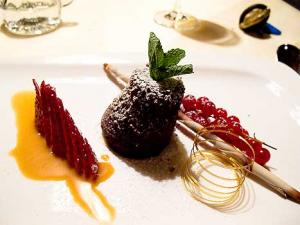 The main course topped the lot; slices of veal on truffled mashed potatoes with almond broccoli and port wine sauce. Veal of course is a meat that still divides opinion, my own being that while I won't choose it all that often from a menu, it's okay as an occasional treat and this certainly was. Snow white meat, perfectly cooked. The rich port wine sauce complemented it well and the truffling on the mashed potatoes was subtle, turning comfort up a notch. Another excellent wine choice, Rössler from Jöbstl showed Austrian reds can match the quality of their renowned whites. Finally Molten Chocolate Soufflé with caramelized pepper strawberries, another visually stunning dish with the soufflé perfectly cooked, again no mean feat when chef had a full room and few kitchen staff.
A man, his moustache and an Austrian wine tasting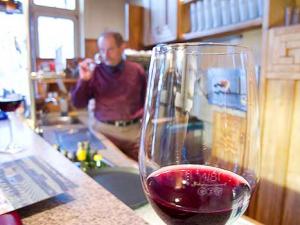 After the meal it was over to Peter's Bar, handily just a few yards across the snowy square, where the eponymous Peter – straight backed, of military bearing and possessor of a classic moustache – cheerfully helped us sample some more fine Austrian wines, of which he is a bit of an expert. His bar, small and cosy, was packed with villagers of all ages, all friendly and welcoming and all speaking more than passable English. Within minutes we felt at home and we lurched back out into the snowy air at around midnight with a warm glow.
Next day, we had a leisurely breakfast followed by a stroll through the picture postcard town as the snow continued to swirl down. People kept waving and, after suspiciously checking that no one was behind us, we realised that they were all people from Peter's bar saying hello. The man himself plus his magnificent moustache was unloading beer from his car and he waved happily to us too. It was like being in some cuddly Austro/Ealing comedy film and rather nice after London's lack of personal warmth.
Snowshoe shuffle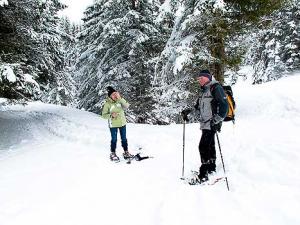 Our stay included free transport to Postalm about 30 minutes away and Austria's largest alpine plateau. Here there are beginner and intermediate ski slopes, cross-country ski routes and snow shoe trekking all available. Not being in any way competent skiers we opted for a nice trek.
Our trained and licensed guide Mo, complete with his lovely dog, helped us strap our snow shoes to our boots and we set off up to the tree line. It was quite a trudge through deep virgin snow and we waved our pointy sticks, sorry to be so technical, at each other while gradually losing our breath. Once up there, the view back was magnificent – the snowy peaks now almost the same height as we were and the skiers down below mere dots.
As we entered the woods the silence was profound. There was just the crunch of our snow shoes and the odd patter of loosened snow falling from the trees to be heard. We were walking in a straight single file in Mo's track – each step he took he sank about a foot into the snow so he was doing all the hard work for us. The snow was over 4 feet deep; it can often be 8 feet. Without the snow shoes we'd have sunk up to our necks and never got out he told us, which is a salutary thought so we were glad he and his experience were with us. He does these guided walks at night too and is never without his rucksack which contains all his emergency gear. As he's Austrian this is all medical packs, splints, radios and other professional stuff. A British emergency pack, you can't help thinking, would contain nothing but a thermos of tea, some digestive biscuits and a tape player that repeated 'there, there' on an endless loop.
Mo pointed out, seriously, that too many people think carrying a mobile phone is all the precautions they need to take when out trekking. That's not, he shook his head dolefully, a good idea at all. This is a beautiful place but dangerous without professional guides and equipment.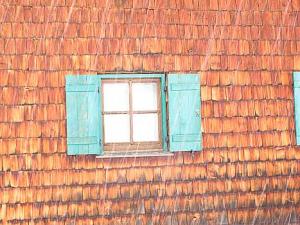 We pass over frozen streams through deep woods and over open fields. Mo pointed out half buried houses where once farmers would stay in summer while their cows grazed on the lush high pastures. This whole area changes when the snow leaves it in spring, becoming instead a haven for cyclists, hikers, kayakers and other summer sport enthusiasts all of whom Mo guides. He has a pretty good life and job.
Two hours and two miles later, plus a few tumbles into snow piles from whence I am pulled by my ankles, we headed back down again. We had a glorious walk that we knew we were going to feel the next day as unused muscles protested at being dragged into action. It's a good feeling though and makes you really fancy your dinner.
A well earnt meal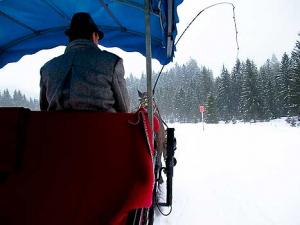 This is just as well as Bruno decided to lay on a classic Austrian dinner that night and that meant rib-sticking food for famished walkers who have earned their carbs. Consommé with shredded pancake was followed by a clever terrine and then a mighty piece of pork belly accompanied by hearty dumplings, excellent crackling, some fried pancetta and sauerkraut. This latter the restaurant makes itself in the time honoured, slow and labour intensive way. Shredded cabbage is put in a crock which is then filled with water and weighted down so that the cabbage stays submerged. After about a week fermenting in the basement, the water is skimmed and the cabbage left again until the sourness has developed properly. It's a health food and one which works perfectly with rich meats like pork belly. Bruno followed this with a classic Austrian dessert, a thick pancake diced and fried and served with a berry jam. After that it was downstairs to the hotels late night bar
In "Above and Below" Austrian teens were smoking fiercely and seemingly stuck in an early 1970s timewarp musically and dresswise. It took me back to my own teen years, there was even the obligatory girl 'who thinks she might be a witch' sitting with rollups and ginger hair in the corner. A nice welcoming bunch though and the place stays open until 4 am every night although, sweetly, by law under 18s must leave before midnight. I don't know why, perhaps if they don't they turn into punks?
The next morning we took a jingly sleigh bell ride in an open wagon equipped with skis. The driver kept the big horses trotting gently and we circled the village often leaving the paths behind to glide over the virgin snow with the horses gently steaming from their exertion. Of course it's corny, but it is romantic so why not?
And then back to Salzburg and the plane home to Stansted. You can taste the difference in air quality as soon as you step off the plane and take your slightly achy bones down the plane's stairs. Three days have flown by, we feel refreshed, fit and a bit fat. What more can you ask for?
Hotel Rother Ochs, Abtenau, Lamertal, Austria
Package details here