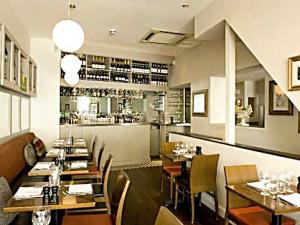 It has to be said that I'm a West London girl through and through. I have always joked that anything south of the river is just too much for me and trekking all the way to Blackheath isn't usually something I do for lunch on a Saturday, but sometimes a girl has got to do what a girl has got to do. En route, my companion and I bicker in the car all the way from Elephant and Castle right through to Greenwich over wrong turns and completely misleading 'Map Quest' direction print-outs. I'm thinking this restaurant had better be worth the trip, because a less-than-mediocre meal would be the icing on the cake of what has been a crap journey so far.
We drive through the heath and into the main shopping street that locals lovingly refer to as the 'Village'. Nothing really 'Villagey' about tail-back traffic moving at a snail's pace on a busy street heaving with cars and shoppers. On a freezing sunny day, after a long drive, I am in need of a nice lunch and a little enjoyment and I'm hoping to find just that.
Packed with diners, Bella Vista is not quite the stereotypical Italian Bistro-style joint that I had imagined it would be. On the contrary, it is tastefully decorated in beige with wood trim and autumnal-shade upholstery. Munching on olives as browse the menu, we order char-grilled calamari with lemon and chilli and also the mussel 'Brodetto' with garlic Crostino. Calamari is one of my all time favourite starters and on this occasion, a tad disappointing as it was rather chewy and overcooked somewhat. Fortunately, in total contrast to the calamari, the mussels 'Brodetto' (meaning 'broth') were really very good. Plump, juicy mussels swimming in a delicious broth made with white wine, garlic and chilli. Very tasty, especially when you take an ample hunk of the Crostino and mop up the remaining broth in the bowl. 'When in Rome" as they say.
My main course of crispy 'pancetta' pork belly with lentils and Cavolo Nero arrives along with my companion's Veal cutlet 'Saltimbocca' with sage, Parma ham and roasted potatoes. As always, I sneak a bite of my companion's dish, a succulent and tender chunk of veal cutlet with salty Parma ham, with a huge side plate of roast potatoes. My pork belly is looking good so far. I perform my usual crackling test by taking my knife and tapping the crust in hope of hearing the desired 'knocking' sound as blade hits solid crackling. Panic over, the pork passes my test with flying colours; I am aware, this kind of behaviour makes me a complete geek, but it's a label I can live with. A mouthful of lentils are earthy and perfectly cooked, with carrots, onions and celery for maximum flavour. Cavolo Nero cabbage is my all time favourite green vegetable and it is well cooked and seasoned. At first bite, the pork belly delivers perfectly crunchy crackling atop sticky and meltingly soft pork belly meat. The layers of fat in between the meat have all but melted away leaving only a thin sticky layer of flavoursome fat in between layers of tender pork meat.
I wasn't expecting our meal to be this good as there are so many poor-quality Italian restaurants in London that take advantage of our love of Italian food and perhaps our lack of knowledge of what authentic Italian food actually is. These lesser Italian restaurants taint the good name of proper Italian cooking, where dishes are mostly simple but hearty and delicious, using great ingredients and involving little elaboracy. Bella Vista have managed to deliver authentic regional Italian cooking, that is done really quite well.
On this occasion, I was so full from the first two courses that I was unable to try dessert as I'd initially hoped. But expect sweet treats like pistachio and olive oil cake with cherries and sweet ricotta as well as the more classic Tiramisu and Pannacotta. Artisan cheeses are also served and the wine list is pretty impressive with a varied list of Italian wines, as well as a good selection of new world wines also.
I do wish Bella Vista was a little closer to where I live, because it is just the kind of little Italian restaurant I would visit regularly. But I have decided that despite the 90 minutes of bickering whilst trying to find the restaurant, it is most definitely worth another visit in the near future. The restaurant manager Francesco is charming and friendly and the other diners seem to know and like him too. The staff are also friendly and knowledgeable and made us feel welcome and well looked after. Next time round, however, I won't be leaving without having dessert, that's for sure. But as the old adage goes 'You can't always have your cake and eat it" – quite literally, in this case