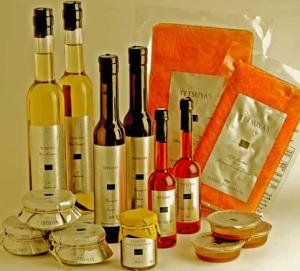 Award winning Chef Tetsuya Wakuda's vinegars and vinaigrettes are essential ingredients in the kitchens of his Sydney based restaurant, Tetsuya's and are now available in the UK.
The vinegars are designed to add depth, intensity and bursts of heightened flavour. As a pantry staple, they are the home chefs secret to dishes that are impressively simple to create.
The Tetsuya's range includes Tasmanian Pepper Berries and Honey Vinegar, Seasoning Rice Vinegar, Nori Vinegar and Honey and Rosemary Vinaigrette.
'The Honey and Rosemary Vinaigrette", suggests Wakuda, 'is the perfect accompaniment to beef or venison. The sweetness and subtlety of the rosemary and the honey balances well with the meat. To make a quick supper for example, simply sear the meat, bring it back to room temperature, slice thinly and pour over some of the vinaigrette. Its perfect served with some peppery rocket".
The ingredients for much of these bespoke vinegars and vinaigrettes come from Tasmania, an island with which Wakuda has had a long standing relationship. 'The clear seas and air and its natural environment give Tasmania a wealth of outstanding produce which just tastes exceptional", explains Tetsuya.
With his Seasoning Rice Vinegar and Nori Vinegar, Wakuda brings an authentic taste of Japan. Add the Rice Vinegar to season sushi rice, or to stocks and sauces for that instant umami hit.
The subtle Nori Vinegar is the perfect accompaniment to delicate white fish. Tetsuya recommends combining it with lemon zest, a little lemon juice, grape seed or olive oil, chopped chives and grated ginger and serving with gently steamed white fish along with rice or vegetables – a simple dish that brings hints of flavours immediately synonymous with the Japanese kitchen.
The Tetsuya's range is available in the food halls of Harvey Nichols, Selfridges and Fortnum & Mason.