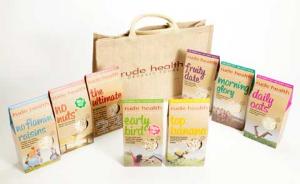 There's always been, to my mind, something austere, some thing hair shirt, something a little well, Scottish, about porridge. It makes me think of boarding schools in the Glens and young scions of the aristocracy being herded into cold showers at 6am before being forced to eat a bowl of porridge made with water and salt.
However the health aspects of porridge are now clearer than ever. It's slow energy release food that can keep most people going until lunch, avoiding the need to suddenly scarf down sugary mid-morning snacks to refuel. Plus of course, it has plenty of fibre to keep you regular. It seems that many bowel ailments, including the Big C, are in part caused by slow 'movements'.
Me and porridge though have remained virtual strangers. The fact is that I have always been a Ready Brek sort of wimp. I believed in the advertised 'glow' basically, which at 11 I thought was pretty cool. Camilla Barnard, co-founder of Rude Health, winces visibly in the kitchen of her South London home at the mention of 'The Brek'. 'It's not really porridge though, is it?"
No I suppose it's not, she's going to have to work hard to get me over to the oats' side but that's why I am here. Camilla is a porridge evangelist having started Rude Health, the company in 2005 with Kate Freestone and David Vinesher as well as her husband Nick who, bizarrely enough, is also a stunt pilot amongst other things.
'We originally wanted to market a better muesli,' she explains stirring three bowls of porridge on the hob at once. 'But once we considered how many separate ingredients there are in muesli we started to see how very complicated it would be to bring them all together in a packet while keeping very high standards."
'So," she says pouring out porridges," we decided that porridge would be a lot easier. After all, it only contains oats!"
Well it did at first, but as the rack of packs in front of us testify, it soon grew to be a range of porridges with all kinds of extra bits and pieces and, yes, the Rude Health range does now include a muesli too.
Camilla has set up a tasting of two well-known brands against Rude Health's basic porridge Daily Oats. Theirs is organic of course. I'd like to say I had a sommelier's nose for porridge but to be honest they all taste much the same to me although the Rude Health seemed to have plumper oats in it, or it may have been my imagination.
My taste buds are yelling for some sugar or, more healthily, some honey. Camilla adds salt but nothing else. This may be authentic, healthy even, but I'm not ready to ditch toast, butter and marmite for porridge just yet.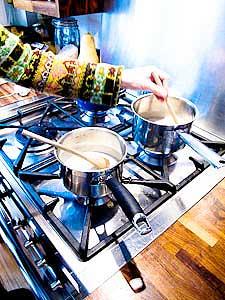 Camilla goes back to the stove and rustles up some more tasters from what is a rather massive range of Rude Health products: Fruity Date, Morning Glory (there's rather a lot of Carry On word play associated with the brand) and Top Banana. This last one is my personal favourite. I like the chewy lumps of Fairtrade banana and the surprising crunch of hazelnuts. Ground banana is also added to give a flavour strand all the way through the hearty mixture of ordinary and jumbo oats.
Morning Glory is a bit more hard core with a chewy mix of porridge oats, jumbo oats, oatmeal, barley flakes, rye flakes, golden
 linseeds, sesame seeds, pumpkin seeds, sunflower seeds, buckwhea t
flakes, poppy seeds and quinoa flakes. I can see it would do me good, even if I rather doubt the advertised priapic properties.
Fruity Date is more my bowl of porridge mixing up oatmeal, oats, dates, apricots and apple pieces, with a bit of cinnamon flavour. All that nice fruit makes the oats a bit easier to get down and it's really a very tasty mix. It won a Silver Medal at The Grocer Food & Drink awards last week.
So am I a porridge convert? Well actually yes. It's very easy, if not terribly authentic, to make it in a microwave and I have become very fond of Top Banana. I like the way that I feel pleasantly full and energized, without the bloat that wheat brings. It really does keep me going until lunch and beyond.
Sundays though it's still desperately unhealthy bacon, eggs, tomatoes, mushroom and black pudding. If they could get all that into a porridge mix I'd be a happy man!
Win a big selection of Rude Health products by entering our great competition here