Rich and unctuous, and as far from Sarsons as Modena is from Margate, true balsamic vinegars are a luxury to be savoured.

'Here in Modena they say blood and vinegar run through the people's veins,' laughs Cesare Mazzetti on a Zoom call on a background of wooden barrels where his elixir is slowly maturing.

Having been to Modena, I can add that Ferrari also runs through the locals' veins. Enzo Ferrari even used to carry his own bottle of Balsamico to put on his food wherever he was in the world.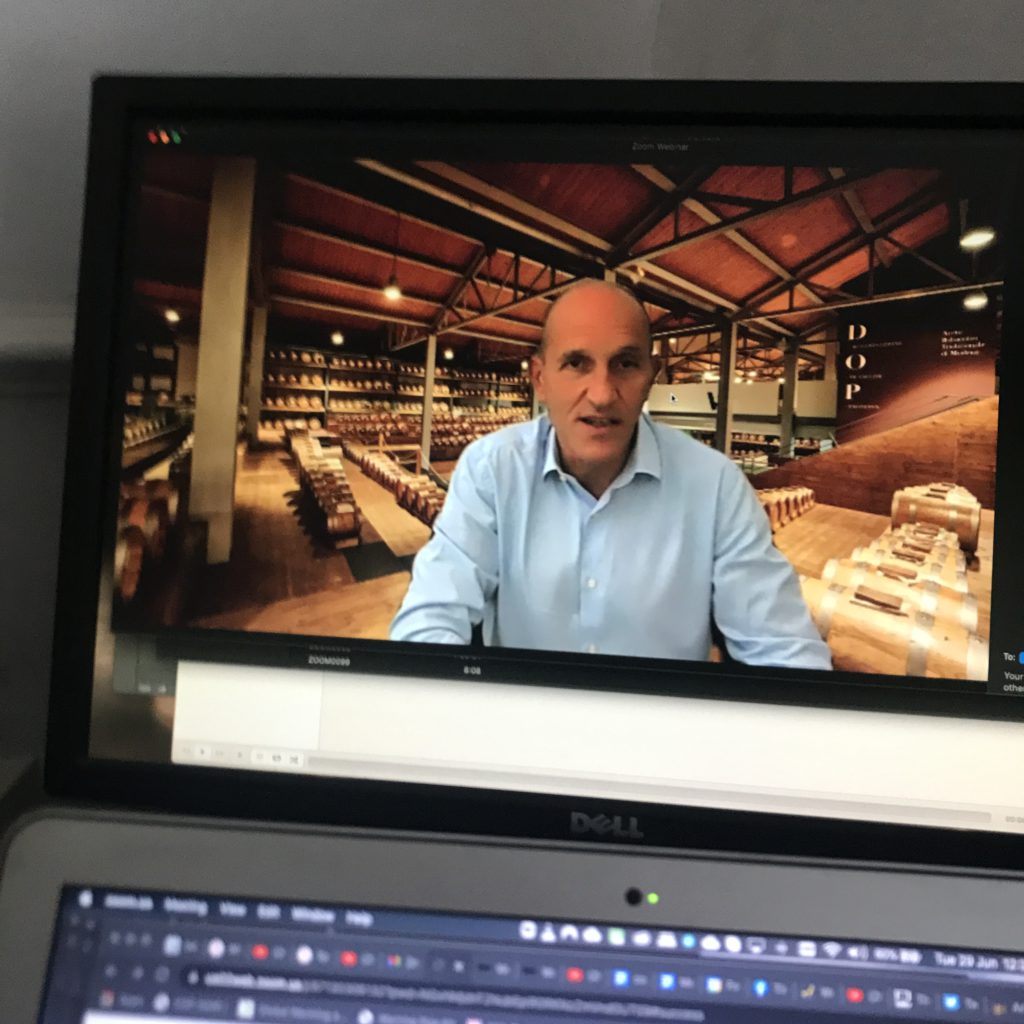 And in attics all over town, ordinary people like to create their own Balsamico, making the best of the fact that the area's climate is perfect for the long maturation process.

Senor Mazzetti makes some of the best, perhaps the very best Balsamic Vinegar of Modena, Mazzetti L'Originale. He tells me his grandfather was the first of the family to see potential and profit in what had before been just a little-known local product. He had come to the area after the first war to buy cherries for his distillery business, tried the vinegar and loved it.

In the mid 70s his son, Cesare's father, moved the business to the next level and it's now one of the biggest in the world.

What's So Big About Balsamic?

Balsamic is made primarily from grape must, the pressed grapes with all the skin, seeds and bits of stems, and is extremely sweet. In fact it was used as a sweetener as long ago as 44BC, before it was noticed that in Modena's climate the Must became a remarkable vinegar.

As I taste sample bottles of must, Cesare explains that the must, derived in his case from local grapes Lambrusco, Sangiovese, Trebbiano, Albana, Ancellotta, Fortana and Montuni, is treated in one of two ways – cooked down over a real fire, or vacuum concentrated.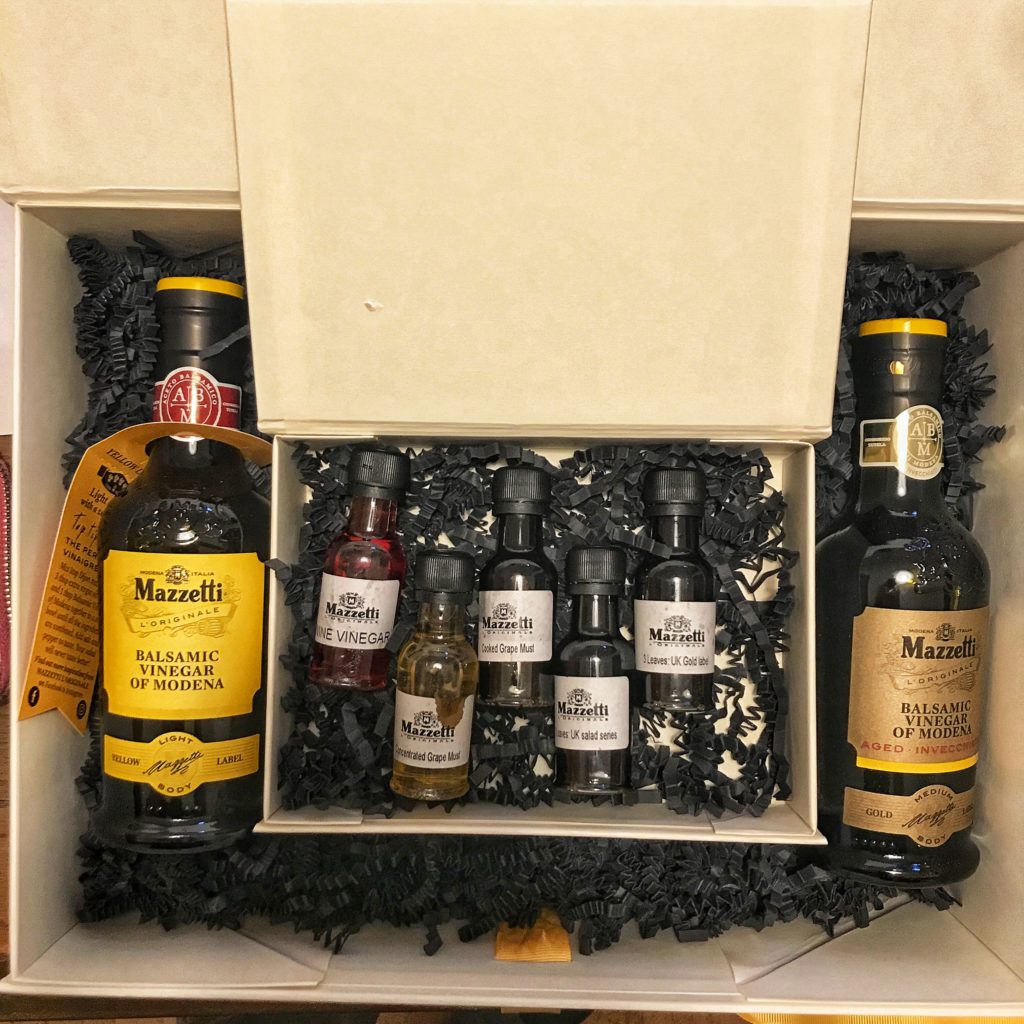 Tasting the cooked must is rather like tasting liquidised Xmas pudding – it's aromatic, viscous and sugar sweet. The concentrated must is a slightly lighter affair.

The chosen must is then blended with selected wine vinegars, one of which has be at least a 10-year-old wine vinegar. Naturally at Mazzetti they make their own vinegar, and I sip a sample bottle; it's delicious.

After this the mix goes through a natural process of acetification, where friendly bacteria turn the mix into vinegar in the same way your bottle of wine goes off if left open.

Then comes the magic – the maturation phase using a process similar to Sherry. This happens in 'batteria' barrels made from woods, such as oak, chestnut, mulberry or juniper, and the minimum time by law is 60 days.
Mazzetti l'Originale have a longer minimum for all their blends and some, the 'aged' Gourmet" and Premium" blends will be in the barrel at least three years or much longer.



Bringing Balsamic To The Table
All balsamic is not equal, not just in terms of quality but in the type of blend and how it's used. Cesare explains he follows AIB, (Italian Balsamic Vinegar of Modena Tasters Association) with a leaf grading system. Each bottle carries the 'leaves' symbol on a special coloured strip, printed on the label showing the quality of the product, as well as its best use in cooking.

One leaf is light and 'runny and perfect for salad dressing, two leaves is good for grilled meat and vegetables, three is full bodied and tangy for fish, meat and hot sauces, and finally four leaves is lush, intense and syrupy with complex flavours and aroma. This one is best used sparingly and for special dishes.

And if you have never tried four leaves over strawberries, ice-cream or Parmesan cheese you have certainly missed out.

'And on bananas!' says Cesare,' as I savour my sample, 'children really love it!'


Using Balsamic

The lighter for salad dressings of course, the more aged is great over. It's also great over grilled meats and seafood, just a last-minute teaspoon per person will do.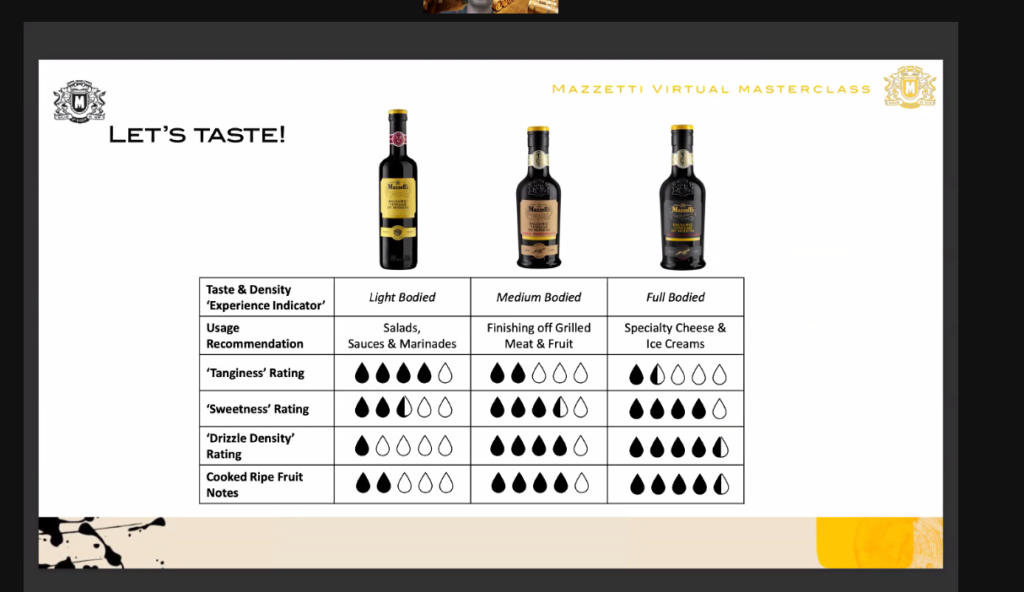 The very best can drunk as a palette cleanser, as an aperitif or a digestif, on special occasions such as weddings.
And of course mixing it with the best olive oil, makes a brilliant dip for breads.

Balsamic will keep in the bottle almost 'forever', if left in the dark and cool.

Beware Of Fakes

It's not surprising that given the crazy prices Balsamic can fetch, that the Balsamic world is sadly full of fakes, Some are simply plain old vinegars with sweeteners added, yuk. So always look on the labels for what you need to see to avoid getting a duff deal.

Genuine balsamic vinegar is labeled  "Aceto Balsamico Tradizionale di Reggio Emilia" or "Aceto Balsamico Tradizionale di Modena." To have that label they must be produced in either the regions of Modena or Reggio Emilia. They will also carry D.O.P. ("Denominazione di Origine Protetta").

Or just always buy Mazzetti l'Originale. The passion of the family for creating only the best is your guarantee of never feeling sour about your beautiful balsamic.

Black Label Balsamic RRP £14.99 Waitrose and Amazon
Gold Label Balsamic RRP £9.90 Waitrose and Amazon
Yellow Label Balsamic RRP £5.90 Waitrose and Amazon
Chef's Reduction RRP £3.29 Waitrose