Madhu's at The Dilly restaurant and bar takes up 'pop-up' residency in the Grade II listed Oak Room of The Dilly Hotel on Piccadilly.

The first fine-dining restaurant within the portfolio, Madhu's at The Dilly will also offer a take-away service and delivery.
A family run business, Madhu's Punjabi cuisine with Kenyan twist recipes have been passed down over four generations. Established by Sanjay and Sanjeev Anand in 1980, Madhu's has earned a reputation for the highest standards in Indian fine dining.
A highlight of the menu are the dishes cooked on the Robata Grill short for 'robatayaki', which translates as 'fireside cooking' in Japanese cuisine. The cooking style refers to a method of cooking over hot charcoal on a wide and flat open fireplace.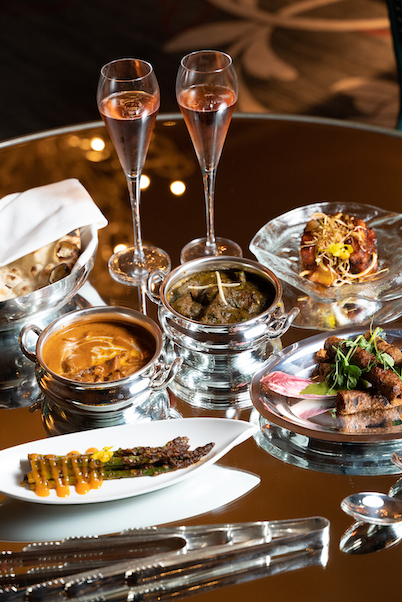 The signature dish of the 80-cover restaurant will be 'Machuzi Shank', exclusive only to Madhu's at The Dilly; spring lamb shank slow cooked using great grandfathers' sauce with a secret blend of dry roasted spices.
The signature cocktail of the 40-cover bar is 'Dawa Gin', Plymouth Gin, cucumber, melon liqueur and a touch of wasabi. Other show-stopping dishes include Madhu's Makhani Dal, Masala Fish and Boozi Bafu.
In May 2021, The Dilly Hotel opened for the first time as an independent hotel since its inauguration as The Piccadilly Hotel in 1908. Its famous Grade II listed Oak Room that will now host Madhu's, once hosted many high society parties, dinner dances and banquets.
Madhu's at The Dilly is open 6 days a week from Tuesdays to Sundays, 17.30 – 23.30 and will also be offering a takeaway and delivery service.

Diners can book a table at Madhu's at The Dilly bar or restaurant via OpenTable here.