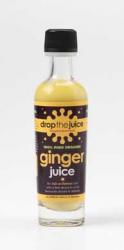 I was never a fan of McVitie's Jamaica Ginger Cake, eternally nonplussed about Ginger Nuts. Then I discovered the pow-zap flavours of South East Asian cookery on the sticky street corners of Bangkok and in the world food cafés of Sydney and suddenly fresh ginger, and her close friend galangal, were top of my list of favourite spices, especially when thrown in the pot with a couple of birds eye chillis, a stick of bashed lemongrass, a handful of holy basil and buckets of fish sauce.
My issue with buying these ingredients to cook with at home is shelf life. You either get Thai overkill for a week or a salad drawer full of sad, blackened herbs and spices. You can get 'lazy' fridge pots of pulped ginger, garlic and chilli but these are preserved in white wine vinegar, which is meant to evaporate with cooking but never quite does, leaving you with a non-authentic acidic after taste. There are also tubes of puree, some preserved, some fresh, which are OK.
For the first time that I'm aware of there's now a ready made ginger juice in 100% natural organic form. The invention of Hester Camilla, the Drop the Juice micro brand is a result of her unswerving passion for ginger and all its unsung health benefits. I knew it was good for staving off colds and indigestion but did you know it can help improve circulation, soothe muscle pain and relieve nausea too?
Up for a day of much-needed internal improvements, I gingerly (geddit?) unscrewed the cap from the tiny 50ml bottle of yolk-yellow elixir. Pow-zap! There it is again – that lovely, great, big, sinus-busting snort of pure ginger fix. Ahhh, I feel better already.
Now, for a northern lass to substitute her first cup of PG in favour of homemade ginger tea is quite a commitment to her art, but my chi needed a wee kick up the bum so I followed the recipe on the bottle and added about half a teaspoon to hot water, sprinkled in a little cayenne pepper and a drizzle of maple syrup. I'm both pleased and surprised to say it was really good and felt like a very saintly way to start the day.
During the afternoon I had a go at makeshift ginger beer, adding a few drops to sparkling water. Refreshing but thin, half a teaspoon of sugar made no difference to the sweetness. In retrospect I should have consulted the recipe page on Hester's website – I wasn't using nearly enough ginger and should have added honey, lime and mint too.
In the evening I made my own recipe tom yum gai, adding a good dessertspoon of Drop the Juice instead of sliced root ginger (Sainsbury's Tunbridge Wells doesn't do galangal, OK?) and all the aforementioned ingredients plus a fistful of coriander leaves. My poor, snuffly man, full of cold and sadness, declared it one of my best efforts and inhaled the lot.
I still have three quarters of the bottle left and two weeks in which to use it. Maybe I'll try Hester's ginger cake, then a rhubarb and ginger crumble for Mother's Day, carrot and ginger soup for work…
Drop the Juice Ginger, 50 ml, RRP £3.75. For more recipe ideas or to order visit www.dropthejuice.com or visit Hester's stand at the Duke of York Market, Chelsea most Saturdays. You can also follow her on Twitter