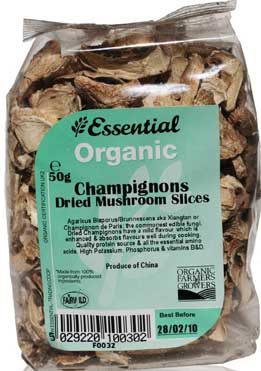 Essential has launched a range of organic, dried, wild-gathered gourmet mushrooms offering a choice of Champignons, Oyster, Porcini, Shiitake and a mixed selection of the four varieties. All are sourced from China and have received the Organic Farmers & Growers Association accreditation.
These exotic mushrooms are dried and sliced – ready to be added to all manner of savoury dishes. They simply need to be soaked in hot water for around 20 minutes before cooking as desired. They are perfect in pies and stroganoff, added to pasta and risottos – or simply sautéed in garlic!
The range comprises five varieties
Champignons – a versatile, mild mushroom that absorbs and assimilates seasonings and flavours well
Oyster – a fleshy mushroom, with a delicate peppery aroma, that adds texture Porcini – an intensely flavoured, pungent mushroom that adds depth to dishes
Shiitake – an 'earthy', woody flavoured mushroom that enhances other food
Mixed Dried Slices – a mix of the four mushroom varieties
How to buy:
These speciality mushrooms come in 50g bags and are priced from £2.51 for the shiitake to £4.78 for the porcini. They are available from health food shops and online at www.ethicallyessential.coop and www.faceofflowers.com.