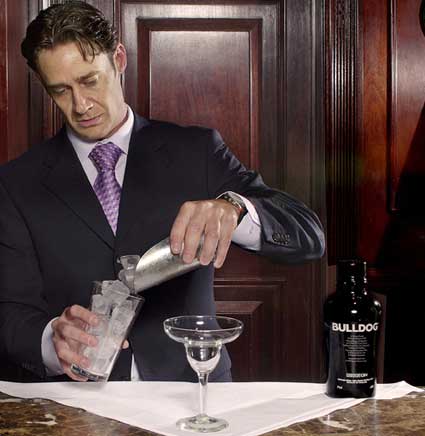 The Bulldog sessions are a step-by-step mixology master-class to celebrate Father's Day on Sunday 21 June. The pop-up Bulldog Bar will be in residence at Selfridges, London Friday 19th & Saturday 20th June 2009, 5.30 -9.00pm Friday and 5.30 – 8.00pm Saturday and will feature a top mixologist to walk guests through four national prize-winning cocktails from start to completion so that you too can try your hand at creating some of the UK's most expertly made cocktail creations.
The pop-up Bulldog Bar will be located in the Technology department on the lower ground floor of Selfridges, London with master-classes available every half an hour on the hour. Guests are invited to take part in the FREE mixology master-class (5.30pm, 6.30pm, 7.30pm, 8.30pm except Saturday which does not feature a class at 8.30pm), learn some insider techniques from the professionals, sample each of the four Father's Day cocktails, pick up the winning recipe cards and to also grab a 10% discount on each bottle of Bulldog Gin.
Each of the four cocktails showcased at the Bulldog sessions are winners of a nationwide competition in which the bar industry was invited to create and submit a cocktail to leave a father feeling indulged, loved and wanting another. The competition launched by Bulldog Gin in conjunction with trade title Bar Magazine aimed to find the most outstanding Father's Day cocktails across the UK.
Bulldog Gin is made using 100% British grain. It is a London dry style, quadruple distilled, triple filtered gin, infused with the taste and aromas of its twelve exotic botanicals using traditional copper pot stills. As a result of its painstaking distillation process it has a distinctive flavour, while its notes of fruit and citrus lend it a refreshingly crisp character and balanced finish.
Date: Friday 19th, Saturday 20th June 2009
Time: 5.30pm -9.00pm (8.00pm Saturday) – Mixology Master Class at 5.30, 6.30. 7.30, 8.30
Location: Technology Department Lower Ground Floor, Selfridges, 400 Oxford Street, London W1
Treat your dad this 21st June with Galler's sophisticated Cigar Box.
Chocolate isn't just for girls! Spoil your dad this Fathers day with some manly chocolates from Galler UK. Visit their online shop www.gallerchocolates.co.uk and get luxury chocolate gifts from Galler delivered straight to his door!
Filled with 6 tubes of Galler's mouth-watering milk and dark chocolate pralines this chic leather cigar box will have him asking for a brandy and heading for the drawing room in no time.
Challenge him to a chocolate eating competition with our fiery Volcaniques Gift Box from the innovative Elements range. Containing flavours such as Sichuan Pepper and Lapsang Souchong these exotic chocolates should show what he's made of.
Be unique and get him Galler's Kaori Gift Box. Based on the ink sticks and stones of traditional Japanese calligraphy, Kaori contains 6 different flavoured chocolate sticks and 3 inkpots filled with Orange and Cocoa Nibs, Matcha Green Tea and Poppy Seeds, and Kalamansi. The fifty-four flavour combinations should keep him occupied!
Alternatively for the ultimate Fathers Day gift choose from our fabulous range of hampers. Galler recommends the "Decouverte" Gift Leather Basket, an elegant hamper that doubles up as a chic newspaper holder after the chocolates have gone.
Order Galler chocolate online at www.gallerchocolates.co.uk, call 0207 351 1668 to order over the phone or visit the Galler retail outlet at Harrods.
Win a box of fancy Galler chocs for dad. Look here

Boutique Indian Cookery Class for Dad this Father's Day

Ren's Kitchen, London's boutique Indian cookery school has an exclusive one-off deal this Father's Day. Buy a gift voucher for a group class and get one free for your Dad at the same time before 21st June, saving you a huge £99!
Ren's Kitchen provides the ultimate bespoke (one to one) and group cookery classes (no more than 6 people) for complete beginners to the very experienced! Group classes are small and intimate with set menus. The private classes are tailor made to suit your needs and are all completely hands on, giving you the opportunity to learn to cook the perfect chicken curry from scratch or sharpen your Indian culinary skills.
To purchase this exclusive Father's Day gift voucher deal please contact Ren on 07880 548 227 or email info@renskitchen.com – quoting Fathers Day Promotion.
Her classes are held in her private home kitchen studio in Edgware. Ren provides all the necessary ingredients and expert tuition and at the end of the class you can take home food enough for two people. You also get to keep Ren's amazing recipes to try out on your friends and family.
These are some of the most popular Indian dishes that you can learn from scratch:
Starters:
Samosa's (Vegetable, Chicken or Lamb)
Authentic Chicken Tikka
Lamb Kebab
Mains:
Ren's Chicken Curry
Ren's Lamb Curry
Lamb Madras
Chicken Dhansak
Vegetable Jalfrazi
Saag Aloo
Tarka Dal
Biriynai
Saag Paneer
Accompaniments
Chapattis
Pulau Rice
Cucumber Raita
For more information on Ren's Kitchen please visit www.renskitchen.com.

Fish Hoek for Father's Day
If your dear dad fancies himself as a bit of a keen fisherman, avoid the rain and maggots this year by foregoing the annual fishing trip and giving him a delectable bottle of South African red wine instead this Father's Day. It's guaranteed to win him over – Hoek, Line and Sinker.
Fish Hoek Shiraz 2007
A smooth, juicy, medium bodied wine, bursting with ripe red berries and subtle spice. This well-balanced South African Shiraz would be the perfect accompaniment to barbecued rack of lamb served with warm potato salad and couscous.
RRP £6.29 in Tesco, Sainsbury's, Somerfield and Waitrose
Fish Hoek are a range of delicious, single grape varietal wines, created by celebrated South African winemaker, Bruce Jack. Created with some simple rules in mind, Fish Hoek is a South African wine that stands out from the crowd.Jack has focused on classic single grape varieties and pared back his winemaking until it's artful in its simplicity; creating wines of exceptional character and quality.
Not only does Fish Hoek taste great, the striking design is both eye-catching and elegant – perfect as a standout gift!
Take the Worry out of Whisky this Father's Day
– Choose the Ultimate Single Malt Whisky Experience Gift Pack
With Father's Day rapidly approaching there is always the pressure on those unfamiliar with whisky to choose the right single malt for loved ones. With so many flavours, ages, regions and brands it's a conundrum to know which whisky suits different tastes.
Fortunately help is at hand with the launch of The Single Malt Whisky Flavour Experience – the first ever gift pack to take you on a unique flavour journey of whisky.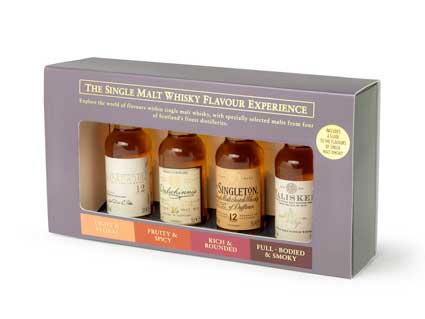 The Single Malt Whisky Flavour Experience includes four different 5cl bottles of single malt whisky; Glenkinchie™ 12 year old, Dalwhinnie™ 15 year old, The Singleton™ of Dufftown 12 year old, Talisker™ 10 year old and a Single Malt Whisky Flavour Map guide. The gift pack is great value at £12 RRP, available exclusively from Oddbins and good whisky retailers from 30th May.
All the whiskies have been carefully selected from different areas of the Flavour Map to give your father the ultimate whisky experience. From light and floral through to strong and smoky there will certainly be a single malt whisky to suit everyone's taste.
The Single Malt Whisky Flavour Experience has been specifically designed to bring to life the Flavour Map. Created and developed by Diageo experts in close cooperation with independent whisky authority Dave Broom, the Flavour Map reflects a simplified version of the tried and tested way professional tasters plot whisky flavours on a grid according to their levels of certain characteristics, from delicate to smoky on the vertical axis and light to rich on the horizontal axis.
The Single Malt Flavour Experience is the perfect gift for Father's Day, allowing your father the complete malt whisky experience, all in one box
The Singleton™ of Dufftown serves up a smooth Father's Day celebration
What better way to help your dad celebrate Father's Day this year, than with a truly enjoyable bottle of single malt Scotch whisky. The whisky from Speyside will be sold in selected Co-operative stores nationwide in an exclusive gift pack* as part of their special Father's Day promotion. With an amazing reduced amount off you definitely don't want to miss out on this perfect gift!
James Pennefather, Whisky Brand Director for Diageo GB said, "The Singleton of Dufftown has been crafted for an exceptionally smooth taste, so it is a pleasure to drink and the ideal gift for any discerning Dad this Father's Day"
Since 1896, the Dufftown (pronounced "Duffton") distillery has drawn its spring water from the finest local source, Highlandman John's Well located deep in the Conval Hills. So coveted was the water, legend has it that past attempts were made by rival distillers to literally divert its course in the dead of night. Happily, Dufftown was able to protect its source.
As for its taste, the sweet fruity notes in this fine malt are produced from fermentation in a unique balance of European (sherry) and American (bourbon) oak casks. The rich fruit flavours of stewed apples and sweet dates combine deliciously with notes of toasted hazelnuts and a hint of espresso, providing a satisfying warmth.
The Singleton™ of Dufftown is so smooth that it is sure to be a big hit this Father's Day.
With its exceptional taste and distinctive, blue glass pebble shaped bottle, The Singleton will stand proud in any man's drinks cabinet.
The Singleton™ of Dufftown RRP is £29.99 and is available on general sale in the Co-operative, Sainsbury's, Oddbins, Morrisons, ASDA, Majestic, Booths and whisky specialists.
* Promotion is subject to availability, while stocks last in selected Co-Op stores from 1st – 30th June 2009.
Devoted to Dad? Flatter him this Father's Day with a stylish bottle of Courvoisier®
Courvoisier® has classic gifts for connoisseurs covered this Father's Day. With a complete showcase of sophisticated cognacs to suit any budget, the UK's number one is sure to help you find the perfect present. So whether he is the classic and traditional type, the cool Dad who is a cut above the rest or the man in your life whom you would be lost without, Courvoisier is the cognac to show him he's the best.
Courvoisier Initiale Extra is an elegant and rare blend of eaux de vies that has been aged for up to a century. A highly sought after rarity, desired by men all over the world, Initiale Extra is the perfect gift for this special occasion and ideal for the man who has everything.
Initiale Extra is a superb example of fine cognac; a blend of Grand Champagne and Borderies grapes which indulge the senses with a complex range of aromas and flavours. Luxurious in its composition, the scent of humid forest and truffles overlie rich aromas of port and cedar wood which are followed by spicy hints of cinnamon, orange peel, dried apricot and fruit cake. This cognac explodes in the mouth and is deep and harmonious in flavour, yet maintains its elegant and delicate feel, leaving you with a long and perfect finish.
Courvoisier Intitale Extra is available from Harrods, RRP £250.
Courvoisier XO Imperial is one of the world's finest XO blends and just the present for the most dependable man in your life.
Crafted from a blend of over 40 fine cognacs and aged for up to 35 years, the artistry of the Courvoisier blending process is exquisitely played out in the velvety texture and opulent aroma. Rising from the rich blend are prominent aromas of crème brûlée, testament to the way our barrels are charred by hand, whilst candied orange is indicative of the grapes from the Grande Champagne cru and the subtle iris flower is characteristic of the fine Borderies, aged in humid warehouses for up to three decades.
Courvoisier XO Imperial is available from selected Waitrose stores, RRP £95.78.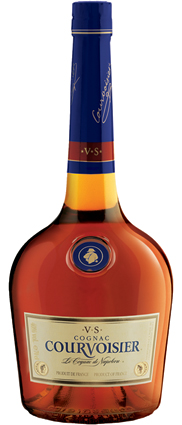 Courvoisier VSOP Fine Champagne
Smooth and refined with warm hints of vanilla and heady summer flowers, Courvoisier VSOP Fine Champagne is an exclusive blend of grapes from two of the finest crus, Grande Champagne and Petite Champagne, resulting in an exceptional cognac any man would be proud to own.
After meticulous crafting and blending over a period lasting up to 10 years, Courvoisier VSOP Fine Champagne imparts a delicate bouquet of dried fruit with exotic floral and vanilla notes. Vanilla is the quintessential aroma of a quality cognac, released in the first stage of the ageing process; a secondary level of dried fruit is the result of the cognac's distillation with the lees, whilst the heady scent of summer flowers shine through from the Grande Champagne grapes. Courvoisier VSOP Fine Champagne is available from Asda, Sainsburys, Tesco, Waitrose and Morrisons, RRP £27.75.
Courvoisier's expertise and craftsmanship prevail throughout the range, so whichever marque you choose to bestow upon Dad, you can be sure it will impress and deliver on its promise of excellence. For more information please visit www.courvoisier.com.
Treat Dad to a Father's Day feast from Tapas in a Box
Everyone knows that the way to a man's heart is through his stomach, so for Father's Day this year on 21st June, order Dad a selection of luxury tapas from Tapas in a Box. Take the stress out of searching for a gift in the shops and buy Tapas in a Box online which is then delivered directly to Dad's door and will definitely delight his appetite.
With the huge variety of handmade hot and cold Spanish dishes available from Tapas in a Box, Dad will be spoilt for choice. Preparing the dishes takes virtually no effort at all – cold dishes come ready to eat and hot dishes need only a few minutes in the oven to heat up.
Cold tapas dishes include 'Queso Curado' – richly flavoured cured cheese, 'Aceitunas de Ana' – marinated olives and 'Lomo iberico' – cured pork tenderloin, which all originate from small family farms in Spain providing amazing authentic quality. Hot tapas dishes include 'Chorizo en vino' – spicy sausage cooked with red wine, 'Pollo al jerez' – chicken in sherry and 'Patatas bravas' – potatoes with a spicy sauce.
Doña-Tapas, Ana Palenciano says, "This is a really decadent treat for Dad and the perfect accompaniment to a lazy day in the sun with a few drinks and a selection of tapas to dig in to. There's usually more than enough to go around so Dad can share his gift with the rest of the family – if he's feeling generous!"
With prices starting at £9 per head, and boxes tailored to suit your requirements, Tapas in a Box offers the perfect cost-effective Father's Day present.