The chef-led restaurant box platform launches its Summer Series – four feasting kits to make home entertaining easy this summer
Finish & Feast – the leading restaurant meal kit platform specialising in high-end dining at home – is launching its Summer Series to mark the end of lockdown and bring back the joy of entertaining this summer.

The Finish & Feast Summer Series includes four brand-new feasting menus from across the globe designed to make entertaining at home easy: be it in the garden, on the rooftop or on your front porch.

Ideal for ordering and sharing with friends and family, Finish & Feast's Summer Series kits come 90% prepared, available for 2, 4 or 6 diners and are delivered nationwide. All diners need to do is finesse, plate and enjoy some of the UK's best culinary talent, from the comfort of their own home.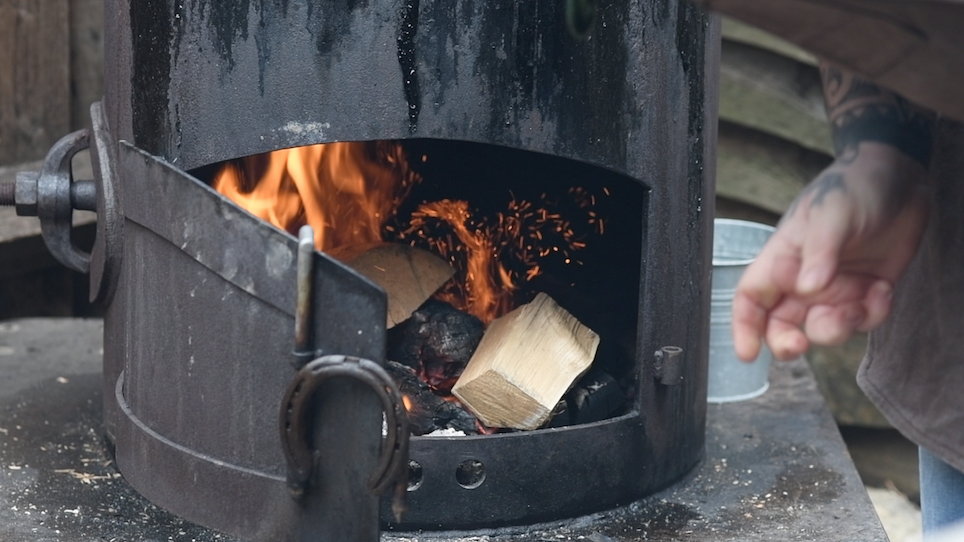 South Pacific BBQ Feast – ideal for those looking for an elevated barbecue experience. Chef Mat Burgess (Executive Chef of Caravan and Vardo restaurants) and his Kai by MatBlak kits include his signature slow-cooked Samoan-inspired Half oak smoked chicken, with Indonesian and Asian inspired sides such as Green lime curry, roasted coconut roti, mustard seed pickles and more.The ideal way to dine outdoors. £60, serves two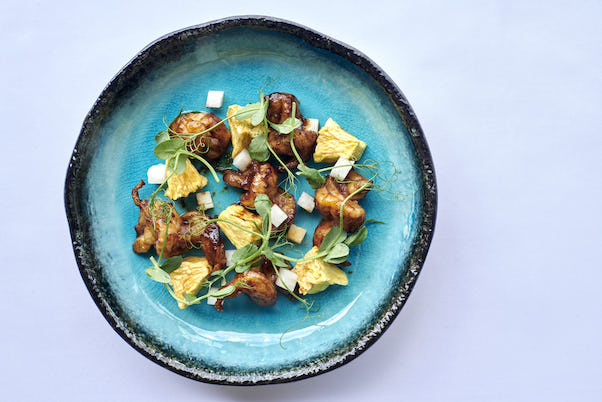 South-East-Asian Feasting – an impressive spread from Peter Lloyd (Chef Patron of South Bank's famed Sticky Mango). A centrepiece whole sea bass wrapped in a banana leaf with sambal and pickled baby veg, alongside truffled egg fried rice and wok-fried purple sprouting broccoli comes after starters of Malaysian-style curry puffs and black pepper prawns with sun-dried pineapple. The feast ends with mango sticky black rice and pandan macarons with kaya jam. £75, serves two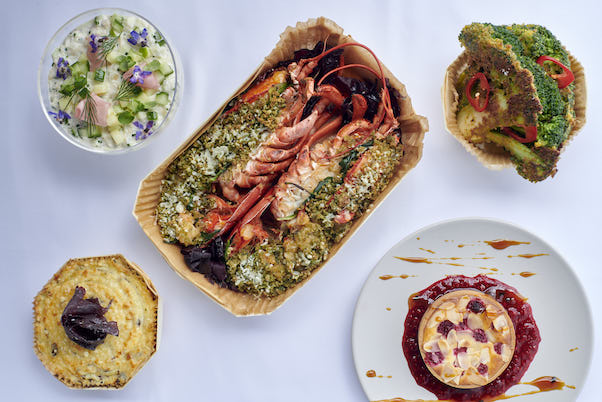 Lobster and Crab Menu – a stylish three-course seafood affair from Hervé Deville (who made his name as the Executive Chef at sketch). Including Dorset crab with bergamot dressing and apple jelly, Lobster thermidor alongside roasted broccoli with a parmesan & tarragon crumb and a cheesecake tart. £69, serves two
Indian BBQ Feasting – for sharing in some of the finest Indian cuisine, Parminder Singh (Head Chef of former London Haunt, Indian Accent) has put together a spread including spins on classics like Peanut butter sauce chicken, summery sides like Bombay potato salad with fresh pickled pink onions and grilled dishes like spiced cod with smoked aubergine and carom seed and cumin & maple pork chops. £120, serves four
Pre- order by the Sunday prior. Order via: www.finishandfeast.com
The Menus
SOUTH PACIFIC BBQ
Kai by MatBlak – Matt Burgess, Caravan & Vardo restaurants
Half oak smoked free-range chicken
Green lime curry
Sticky rice
Coconut relish
Charcoal broccoli with Ketjap Manis
Mustard seed pickles
Roasted coconut roti
Chocolate fudge brownie, salted caramel sauce, caramelised white chocolate
SOUTH-EAST-ASIAN FEASTING MENU
Peter Lloyd, Sticky Mango
Curry puffs / coriander yoghurt (Malaysian style)
Tiger prawns / black pepper / sun-dried pineapple / jicama / pea shoot
Whole Indonesian sea bass wrapped in banana leaf / pickled baby veg / sambal matah
Purple sprouting broccoli / water chestnuts / shitake mushrooms / oyster sauce
Egg fried rice / truffle / leek / ginger & garlic crumb
Mango / black sticky rice / candyfloss, coconut & vanilla sauce
Pandan macarons / kaya jam

LOBSTER AND CRAB MENU
Hervé Deville, former Executive Chef at Sketch
Dorset crab / bergamot dressing / green apple & tarragon jelly / cauliflower bavarois Lobster Thermidor / roasted broccoli / parmesan & tarragon crumb / Dulse seaweed mashed potato
Cheesecake tart / organic Flores Island vanilla / Tulameen raspberries / caramelised almonds / raspberry coulis / passionfruit caramel

INDIAN BBQ FEASTING MENU
Parminder Singh, former Executive Chef at Indian Accent
Chicken skewers / crushed peanuts / peanut butter sauce
Cod / carom seed / black pepper / smoked & spiced aubergine
Herdwick spiced lamb shoulder / spiced bone marrow sauce
Pork chop / cumin / maple glaze
Kasundi mustard pickled spiced prawns
Parathas
Bombay potato salad
Heritage tomato salad with coriander oil

Website: www.finishandfeast.com
Social: www.instagram.com