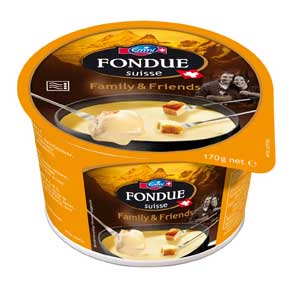 Emmi is Europe's leading provider of premium Swiss dairy products, and has a long history of producing first-class speciality cheeses that are ideal for melting in fondue and Raclette. Both traditional dishes are experiencing a resurgence as we turn to comfort food in the colder weather. Fondue and Raclette are both made using Swiss cheeses, which have a good level of maturity and distinctive taste, and contain no additives or preservatives.
Fondue sales have risen 25% over the last five years, proving that it is hip to dip and get cheese on the tablecloth – it's back to the 80's and the Fondue party. But then it's as much about the social companionship as the unconventional style of cooking.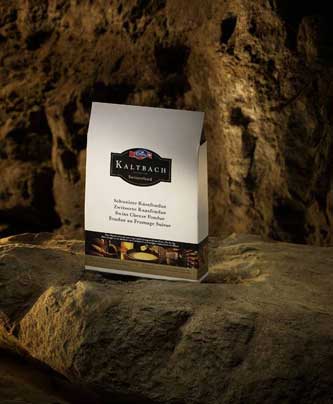 However, you don't need to hit the slopes to enjoy après ski cuisine – Emmi's pre packed fondue kits are available in leading UK supermarkets and are easy to prepare, combining convenience with the sumptuous taste of mature Swiss cheese. The fondue contains genuine Swiss Emmental and Le Gruyère cheeses, and is made to a traditional recipe dating back to 1958. Full instructions are printed on pack, so even first time users have nothing to worry about!
Manufactured using only the highest quality natural ingredients, Raclette is a semi hard cheese made from fresh, creamy milk provided by specially selected dairy herds grazed in lush pastures on the foothills of the Alps. The cheese contains no artificial colourings, additives or preservatives and is matured in a natural environment until it reaches the perfect age. Known for its outstanding melting properties, Raclette has an edible rind and is ideal for cosy winter tabletop grills and au gratin toppings.
Emmi fondue is available at all good supermarkets across the UK in 400g packs (RRP £2.99) in the following flavours:
• Original: containing genuine Premium Swiss Cheeses Emmental and Le Gruyère and made to a traditional recipe dating back to 1958.
• Family: spicy fondue made of particularly fine cheese – a delight to share with family and friends!
• Kaltbach: made from the brand's famous premium cave-aged Swiss cheese in Emmental and Le Gruyere varieties, this is a gourmet recipe for connoisseurs!
The fondue is also now available in 170g microwaveable packs in original and family flavours.
The Fondue packs are available at Sainsbury's and leading delis and convenience stores across the UK.