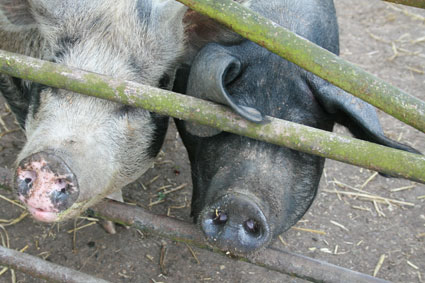 Why go to a restaurant when you can go on a Safari?
Food Safari is a new venture that runs events and workshops that go one step beyond a traditional cookery school with behind-the-scene access to some of Suffolk"s best loved food and drinks producers.
Specialising in "Field to Fork" days, Food Safari provides a complete food experience, in many cases combining farm walks, tours with producers, butchery workshops, cookery demonstrations, team building exercises and feasts which can be tailored for groups up to 25. Suffolk is firmly on the food map and its outstanding natural countryside and coastal beauty combined with an abundance of local artisan producers, farmers and specialist food shops make it a perfect destination for getting away from any stuffy office. Easy access from London (under two hours) and a great range of catered and self-catering accommodation make it an ideal location for corporate events and entertaining.
Food Safari connects food and drink lovers with dedicated and inspiring East Anglian producers including Pinneys of Orford (oysters and smoked fish), the Wild Meat Company (game) and family run Blythburgh Free Range Pork, Shawsgate Vineyard, and Grain Brewery. You will hear the producers" fascinating stories, get behind the scenes and get hands-on plucking a pheasant, smoking fish or baking bread. Days are rounded off by a gourmet feast featuring the best local produce and ingredients prepared during the day and a chance to relax and discuss the day"s activities. The workshops vary in price; starting from £75 per person, events usually start at 10am and finish at 4pm.
The Anchor at Walberswick, is fast becoming a key gastronomic destination under the management of Mark and Sophie Dorber, (formerly of The White Horse, Parson"s Green) and is the base of many of the workshops where key cookery demonstrations and lunches are held. Traditional food producers including butchers and brewers will lead relaxed and fun workshops.teaching people new skills like butchering pork, preparing game, or making sausages. Events can be tailored to group needs.
Founders Polly and Tim Robinson, live in Framlingham, Suffolk with their two young children. Tim says, 'Like many people, we were shopping more and more at farmers' markets to get our hands on fresh, local food but also because we really enjoyed meeting the producers who in nearly every case are so full of infectious enthusiasm for their produce, that it's hard to resist taking something home. But we both knew there was more to these food heroes than manning a stand on a Saturday or Sunday – incredibly hard work, unique stories, fascinating insights, often in beautiful landscapes. We believe that their traditional skills, unique stories and fascinating insights would be great to share with a wider audience. Wouldn't it be great to get behind the scenes and learn more about these producers and their food?"
FInd out more at www.foodsafari.co.uk
Group details:
• Minimum group numbers 6, maximum 25.
• High quality accommodation can be arranged locally (linked with a number of self catering cottages and hotels with conference facilities etc)
• Ideal for corporate away days, team building and stag/hen parties
• Tailored events might include:
An off-shore fishing trip to catch cod, bass and mackerel. Lunch cooked on board by a local chef. Seafood Feast to round off the day at The Anchor, Walberswick. Brew Day – spend the day creating and brewing your own real ale – maximum 6 people. Wild Meat Day – game butchery workshop, learn how to break down a venison haunch, pluck and prepare pheasants, skin rabbits Pig Day – pork butchery workshop, create and make your own sausage recipes, learn how to cure ham and make charcuterie.
Forthcoming events include:
• Free Range Pork in a Day Sunday 11th October, The Anchor at Walberswick, Suffolk
• Smokehouse Tour, May 30th and November 14th – Pinney"s of Orford, Suffolk
• Seafood in a Day, June 27th & September 12th – Pinney"s of Orford, Suffolk
• Grape to Glass, July 12th – Shawsgate, Framlingham, Suffolk
• Catch and Cook, July 25th & October 3rd – The Anchor at Walberswick, Suffolk
• Wild Meat in a Day, September 20th & November 8th – The Anchor at Walberswick, Suffolk
• Autumn events will include bread making, mushroom forays, and brewery days
Food Safari events start at £75/head for a half day to £200/head for a full day depending on requirements.