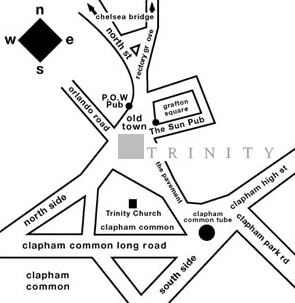 We loved Adam Byatt's Thyme restaurant in Clapham and were sorry to see it go and get into trouble in Covent Garden. Since then he has returned to open Trinity in Clapham Old Town and joy around my part of Sarf Lundun has been unconfined.
Now it gets betterI There is nothing cheap about the new Prix Fixe menu, except the price. Twenty quid is remarkable value for food from a chef who has gained numerous awards including 'Best New Restaurant' at the Carlton London Restaurant awards in 2003, 'Best Newcomer; at the Tatler Restaurant Awards, 2003 and was also the winner of the Remy Restaurant Awards in 2004.
The menu is available Monday – Thursday all night along and the open frontage provides an ideal venue for summer alfresco lunches. A highlight too is the "Kitchen Table" that interacts with the kitchen. This is where Trinity Master Classes are held and it's ideal for small parties and family Sunday Lunches with whole roast joint options for groups of 8 to 12 people. The wine list is well sourced and reasonably priced, making great artisan wines and top end wines accessible to all, even reserve wines are priced with serious modesty.
Sample Menu below, and personally we are running there as fast as our trotters can take us. The map above should help all other bargain hunters find the sweet spot.

Vegetarian Option Available on Request
Vichyssoise of English Asparagus with Jersey Royals
or
A Salad of Home Cured Bresaola with Umbrian Charentais Melon
or
Grilled Cornish Sardines on Toast with a Caper, Red Onion and Tomato Salad

~
Pot au Feu of Lamb Belly and Tongue with Broad Beans, Jersey Royals
and Mint Salsa Verde
or
Bavette of Anglian Beef, Roast Bone Marrow, Truffle Mayonnaise
and a Salad of Green Beans and Shallots
or
Roast Fillet of Cod with Confit Fennel, Basil Gnocchi and Black Olive
~
A Selection of Cheeses from our Trolley
3 cheeses £5 supplement or £10 as an extra course
or
Valrhona Chocolate Hot Pot with Grue de Cacao Ice Cream
or
"Affogato" Homemade Vanilla Ice Cream with a Single Espresso and Macaroons
or
Watermelon and Lime Soup