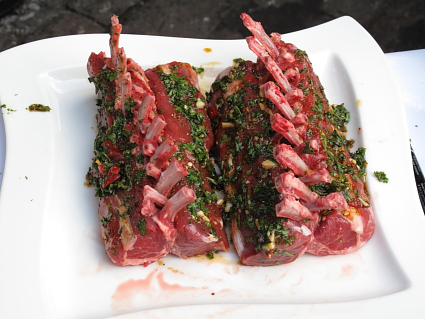 On 27th June, Toast -New Zealand hits Clapham Common, no doubt to the usual consternation of the fancy home owners around there who seem to regard the common as an extension of their garden. Gosh how they moan whenever an event takes place.
This time they may be mollified by the fact that there will be Polo played in the morning and cricket will be well represented by The Beige Brigade. Plus Zinzan Brooke will be a large and powerful presence handing out rugby tips to all who need them.
However we won't be drawn by the smell of liniment and jockstrap rash cream, but by the smells wafting from the BBQ manned by Raymond Van Rijk a superstar of the glamorous griddle. An Indonesian born Dutchman living in NZ for twenty-six years he loves the country and he loves barbeque. So much so that he tours the world giving master classes making it clear that there is to more to BBQ than burning the hell out of a chicken leg's exterior, while leaving the raw centre a short cut to Accident and Emergency.
His courses are all about technique and skills, recipes are given out but the emphasis is on the fact that once you know what you're doing, then the rest comes naturally. Timing a barbeque is always a problem for amateurs – long waits followed by all at once. In between, if it's a hot day, the adults drink too much out of boredom and the kids behave only slightly better.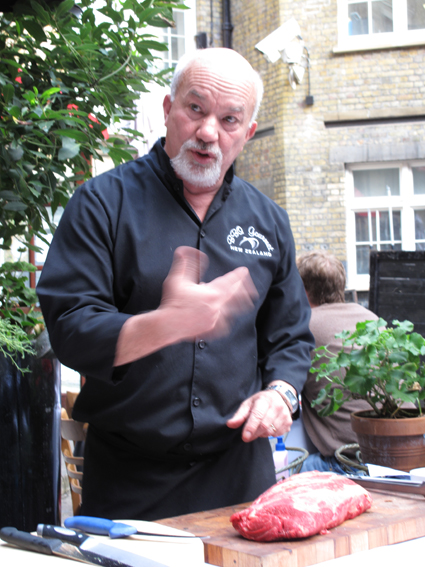 Giving us a pre demo at the Restaurant and Bistro in Bleeding Heart Yard under a late afternoon clear sky, Raymond bemoans the fact that he is obliged to use a gas BBQ (one that puts most domestic kitchen cookers to shame mind you) but soldiers on regardless. His advice for timing is to put some fish on first – it takes no time at all to cook and will keep guests happy. In this case he has an enormous side of Salmon, which he rubs with sea lettuce chilli kelp and smoked paprika and a lime avocado oil and puts on the BBQ after also oiling the bars first. 'Very important!' he says, 'otherwise the fish will stick, you will leave all the best bits glued to the bars and a fair bit will fall down into the flames. You don't want that.' No indeed.
While that is cooking 'lid down,' says Raymond, ' the heat recirculates and the BBQ aroma gets in,' he prepares a rack of lamb with chermoula, a large piece of steak stuffed with smoked mushrooms and a large hunk of venison which he says came with him in his on-board luggage. Best perhaps to not say what airline he flew with. This gets a rub of juniper, garlic and chilli
Raymond actually has a whole range of commercial rubs, including one called Real Man's Rub. This name, together with a line drawing of Raymond's bearded face on the exterior, seems likely to cause the casual internet shopper some possible terrible misunderstandings . 'Ooooh Malcolm! It burns!' but they are rather good mixes and certainly perk up your meat. Perhaps we should rephrase that.
With the fish ready some more of the guest NZ wines from Trinity House come out – a Sauvignon Blanc Hawkes Bay and Gimblett Gravels Viognier. Raymond's timing is such that such that the meat is going in at the right moment to be ready when we are. While we quaff and munch Raymond shows us a bit more technique.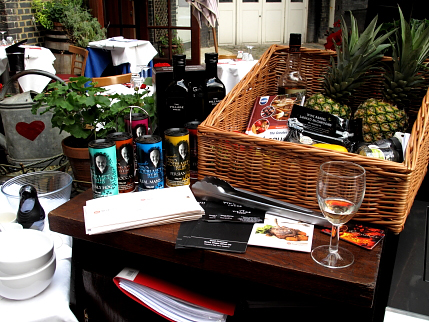 This time it's the mysterious 'hand test' to check a steak's doneness without cutting it open. It involves strange, Masonic/Spock -like, hand manipulations but once mastered it makes judging steak a doddle. It certainly works for the steak this evening, which is medium rare. More Trinity Hill wines come with the steak and that remarkably good venison – Tempranillo Gimblett Gravels and a High County Pinot Noir and then it's a clever little dessert, ideal for the BBQ, of grilled pineapple with warm spices and a rum sauce.
If only our BBQs could be so good, but maybe they can if we follow Raymond's advice and it's on his website at www.bbqgourmet.co.nz
Better yet go and watch the man in action at Toast New Zealand, as well as Maori music and dancing, local hero Dave Dobbyn, wine tasting and barbeques and food including NZ lamb burgers, fresh green-lip muscles, corn fritters and hokey-pokey ice cream.
More details can be found here www.toastfestivals.co.uk
Win tickets here