15-19 Bedford Hill, London SW12 9EX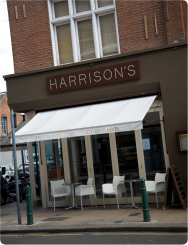 Did you know that Hitler had plans to turn the massive art deco estate that is Du Cane Court in Balham in London into his British HQ after the war? It's an urban myth that is often trotted out to explain why such a high visibility target was never bombed.
The idea of old Adolf living in Balham is an amusing one though and these days, with a massive upsurge of young posh professionals moving into the area, there would have been plenty of restaurant choices available for a him if on a night out with the boys from the Brown shirts.
Not Harrison's though. Just like Sam Harrison's first restaurant, Sam's Brasserie in Chiswick, what they do best here is big meat and Adolf was famously a vegetarian. The bar at the front with its large windows and outside tables does busy business, the place packed with well-paid people not too worried about a credit crunch. The elegant, relaxed and rather funky dining room out back fills up with diners fast, so Sam is clearly doing all the right things here.
It's the sort of place that mixes roles so as to be central to lively Balham life – open for brunch to attract in the metro cool crowd, who presumably live in the state of the art townhouses behind, and they have live music, wine tastings and even bridge evenings.
So what's on the menu? Well fairly standard stuff for this kind of place: steaks, sea bass, burgers, fish and chips and other guaranteed crowd pleasers. My starter of asparagus, poached egg and hollandaise sauce was perfectly cooked, but could have been presented better as the egg was a bit ragged looking with the sauce used to camouflage it. That sauce was spot on though, just the right hint of acidity and the asparagus was al dente from tip to tail. The smoked chicken and pancetta salad was disappointing, the sort of thing you get in pre-theatre places in town – too much lettuce, fridge-cold pancetta and chicken. I expected the pancetta to be freshly fried off and crispy and some of its oil to have been drizzled into the salad along with the meat. It would have lifted what was a dull dish.
Mains though cheered us both up; someone in the kitchen is a genius on the grill. My lamb steak was stunningly good, not just a great sourced piece of lamb but cooked exactly the way I asked, and I was not at all clear: 'Pink, but not too pink, but well cooked on the outside, well actually not too well-cooked'. Chef was clearly telepathic and spot on. The borlotti beans served with it were mealy in a good way, but could have done with more seasoning and some flavour injection. Mind you that may have been deliberate, the lamb really loving having no competition on its plate.
Same story with the rib eye steak – perfect meat, perfectly cooked. Served on a wooden board, which I am always a bit dubious about, but here there was paper between board and beef and I found that a lot more attractive. A tin pail of perfect golden fries was attractive if a little passé, but I was too busy stealing them off the wife to worry about fashion. A well-made Béarnaise sauce went with it to create a classically comfortable dish. A bottle of Spitting Spider Shiraz Field Blend Red, South Australia 2008 had a great name and for the money saw us through all courses.
We weren't sure about the dessert of Buttermilk Pudding with Strawberries in Strawberry Sauce though. The strawberries had been macerated so long in the sauce they had lost their texture and could easily have been mistaken for tinned ones. Affogato (Vanilla Ice Cream 'Drowned" in Espresso) was a nice dish, the coffee waking me up with a start.
All this came from the a la carte, but the set menu at £14 for two courses and just £17 for three looked really very tempting and excellent value. All in all Harrison's goes up against a restaurant group like Locale (also in Balham) and wins by classy mains cooking and a far more central, buzzy, location.

nick harman