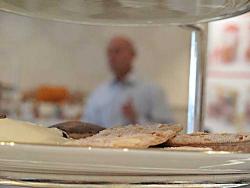 I have to admit I got a bit confused, happens a lot at my age. I thought I was going to meet a man who made fudge. I had announced this fact to the office and all the girls demanded I bring back samples or else.
So when the man told me he was actually called Mr Fudge I was a bit thrown, but rallied thinking he might be like Willy Wonka and have a fudge factory staffed by people of challenged verticality.
Sadly no, he makes biscuits. Rather good biscuits as it turned out and he had come all the way from Dorset to the top floor of Fortnum & Masons to show us a selection and explain their manufacture.
Percy Fudge started the biscuit ball rolling by having a bakery back in 1926 supplying loads of loaves to the surrounding farms for the ever-hungry labourers.
Steve Fudge, or Not Willy Wonka as I now balefully regarded him, is Percy's grandson and the man in charge, having been sucked back into the life some years ago. As he says biscuits are in his blood, like sugar.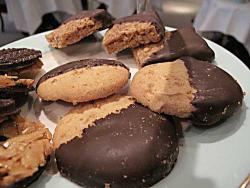 Some sort of fat is absolutely necessary to biscuits, Steve explains or they are simply as rock hard as the ships' biscuits of old and he passes some of those around and indeed they are indistinguishable from concrete. But what fat do you use? He invites us to taste some lard and butter with our eyes closed. The lard just sticks to the roof of your mouth in the most unpleasant manner whilst the butter melts beautifully away. Lard is free of trans fatty acids and cheaper than butter,but it has no flavour and, as it's a pork product, is not kosher.
The Fudges believe a biscuit should taste wonderful and so butter is what they choose to use, just as they use real lemon zest in their lemon biscuits. In fact all the biscuits in their large arsenal are made from fine ingredients carefully sourced. The biscuits themselves are hand crafted, shaped and baked using methods not much different from those used fifty years ago.
Having tried a lot of them in a short space of time, I can say that despite feeling a bit ill (but then no one is supposed to eat quite that many, quite that quickly) they were quite clearly superior biscuits and very well packaged too,
With Christmas approaching the Fudges have also come up with a great selection of my favourites; biscuits for cheese – Round Rosemary, Oat Crackers, Harvester Seeded Flatbreads and Malted Wheat biscuits being just some , along with glamorous cheese straws too.
Check the Fudge website where you'll see the whole range of biscuits, both sweet and savoury, as well as Mini Mince Pies, Twelfth Night Cake and Fudge's Chocolate Florentines. Tasty treats for the upper biscuit eating classes and definitely not for dunking.