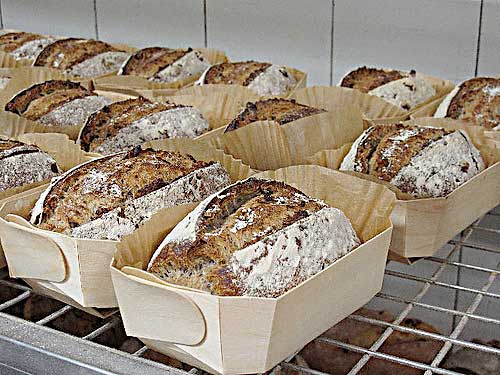 The local bakery is back! GAIL's bakery launches on Northcote Rd at the old Lighthouse bakery site.
Northcote Road is one of London's rare high street's that has an independent butcher, cheese, fruit and vegetable shop and so much more. It is wonderful to see a high street that has retained its charm and individuality without being swamped by all of the big names. Sadly though the high street has been missing a local baker after the Lighthouse bakery closed its doors. However bread lovers will be pleased to learn that they can delight again in all of their favourite dough based products with the arrival of GAIL's Bakery.
The team behind GAIL's was inspired to start the business as they felt it was hard to find a tasty and healthy loaf on the high street. GAIL's bakes delicious & chemical free bread, cakes, and pastries. Knowing man cannot live on breads and cakes alone they also make seasonal salads, fresh soups and tasty sandwiches served with tea and coffee made on a LaMorzocco machine. All of GAIL's products are handmade, preservative, chemical and additive free. Some of their breads are seriously slow-dough taking up to 48 hours to craft, ferment, rest and nurture.
Whilst GAIL's will be new to Clapham they are however old hats at baking tasty treat. GAIL's opened their doors in 2005 on Hampstead High Street followed by Notting Hill in 2007 and St John's Wood in 2008.
For those not near a GAIL's shop, you can find GAIL's bread at 25 Waitrose locations in London, Ocado (www.ocado.com) the national online grocer and GAIL's at Harvey Nichols.
To celebrate the Clapham launch GAIL's are offering the first twenty 'little people' who park themselves at the shiny new Clapham store a tasty FREE babycino!