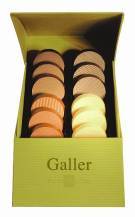 Galler's latest chocolate creations will help you create a melt-in-your-mouth spring. Why not heat up the romance in your life by bringing along a gift box full of floral ganaches or deliver an elegant carton of flavoured chocolate sticks. Chocolate always makes the perfect hostess gift and Galler offers some delightfully elegant presentations for gift giving or to make everyday a special day. For the traditionalists there are dense chocolate bars or those filled with vanilla raspberry and other melt-away-too-soon flavours. For an extra-special event there are hampers overflowing with decadent chocolates.
Kaori, RRP £14.50
The chocolate experience for people that like to experiment, Kaori is based on the traditional ink sticks and stones used in Japanese calligraphy. Combine six different flavoured chocolate sticks – Saffron, Cardamom, Yuzu, Ginger, Vanilla & Coconut and Strawberry & Balsamic – with three dipping pots of Orange & Cocoa Nibs, Matcha Green Tea & Poppy Seeds and Kalamansi and there are fifty four unique flavour combinations waiting to be discovered.
Les Élémentaires Collection, RRP £12.50 per box
Three innovative chocolate collections based on the elements – air, water and fire.
Volcaniques – The box starts with the subtle heat of Sichuan pepper, the sensory journey continues with an explosive sensation in the mouth, followed by the intense heat of Esplette and pink pepper. Finally the smoky aromas of Lapsang Souchong tea, with dark chocolate leave a lasting impression of this volcanic experience.
Marines
Using salts and seaweeds to create unique chocolate flavours, Les Marines take the palate on a journey across continents to discover the distinctive tastes of la Fleur de sel de Guérande, Sel noir d'Hawaï, Nori and Wakame.
Floral Gift Box
The union of fresh flowers and chocolate ganaches produce a delicate texture and taste, in Rose, Jasmine, Orange Blossom, and Violet.
100g Tablets of Chocolate, RRP £4.25 per bar
Choose from a range of dark, milk and white chocolate. With cocoa beans carefully selected from a variety of countries, there are a collection of delicately different flavours to explore.
70g Filled Bars, RRP £2.80 per bar
22 different flavoured filled bars to tempt your tastebuds. Flavours include milk chocolate coffee, milk chocolate hazelnut, dark chocolate raspberry, dark chocolate vanilla, white chocolate coconut and white chocolate pistachio.
Galler chocolate is available at www.gallerchocolates.co.uk. Delivery takes 2 to 3 working days from placing the order if shipping to the UK. International orders will take longer.