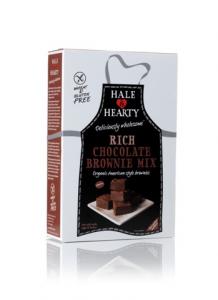 We've all seen those branded ready made cake mixes in the aisles of the supermarket that come with little rice paper pictures of popular kids TV characters and whilst cute they are, wholesome and healthy they ain't.
Enter Hale & Hearty cake mixes. Hale & Hearty is a company created by Ana-Catarina Konig and her coeliac husband Christian who were inspired to set up shop by the lack of products for their wheat intolerant daughter. Unlike most gluten free brands that rely on refined rice, corn and potato starches, Hale & Hearty make the tempting products in their range with a healthy mix of brown rice flour, buckwheat and quinoa.
The Organic Rich Chocolate Brownie Mix from Hale & Hearty is not only reassuringly healthy with no artificial flavourings, colourings or preservatives, it's also deliciously indulgent and the proud winner of a Gold Great Taste Award. Plus there are directions to make a vegan alternative on the side of the packet.
Making the brownies takes literally a few minutes. All you have to do is add 200g butter and 2 eggs to the packet mix, blend into a paste using a wooden spoon and then pour into a baking tin. Done, as Gordon Ramsay would say.
For the vegan version just add 2 level teaspoons of soya flour to the packet mix, melt 150g margarine, add 100ml of cold water/soya milk to it and combine the wet and dry ingredients with a spoon.
If you're a baker with the urge to customise you can add chocolate chips to the mix before you pour it out; nuts, chocolate chips and dried fruit all work well.
When I tried the Organic Rich Chocolate Brownie Mix out at home I was impressed with the lack of effort on my part that was required to create yummy homemade brownies. They were soft and gooey in the centre, just how a good brownie should be, and the fact they're so easy to make means that even kids would find it a doddle to whip up their own sweet treats.
Most products from the entire Hale & Hearty range that includes pasta, cereal and bread sticks are available from Tesco, Waitrose, Sainsbury's, selected Asda stores, Planet Organic, Wholefoods and independent health food shops. Prices start at £1.49.