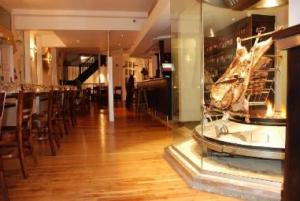 Steak and wine is a match made in heaven, but what happens when you create a tasting menu consisting wholly of beef cuts paired with top notch Argentinean wine?
That's exactly what's going on over at Farringdon's A La Cruz restaurant, where they've teamed up with Mendoza winery Bodega Septima for a 'Septima and Steak' menu which is available on the first Monday of every month starting in November.
Chef John Rattagan set up the Argentinean A La Cruz restaurant along with his business partners in 2009 as a place where diners could enjoy the 'culture, flavours and spirit of Argentina.'
To complete the experience A La Cruz called in Bodega Septima, a winery with a 750 acre estate in the Lujan de Cuyo sub-region of Mendoza. The vineyards of Bodega Septima are located 1,100 meters above sea level- as we were told roughly every 15 minutes during the launch evening- so the wines they produce have a distinctive and unique flavour.
When the tasting menu 'goes live' it will consist of 3 different cuts of prime Argentine meat, a glass of Septima Malbec and an ice cream dessert.
Of course nothing new launches in London without there being some sort of press event prior to letting the public in on the secret, so off I dutifully trotted to the Septima and Steak event which promised a whopping 7 course steak menu paired with 7 different wines.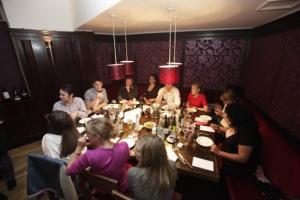 Now, that's a lot of cow and wine not only to consume, but also to describe so lets just skip the whole aesthetic analysis of the decor and the boring bit about how I couldn't work out where to sit and just crack on with it shall we?
First course was fillet of beef carpaccio with a glass of Septimo Dia Chardonnay 2008. This wine turned out to be the only white we'd be sampling that evening but it was crisp, fresh and light so it sufficiently demonstrated that Bodega Septima know what they're doing with a white wine. The carpaccio was the meat equivalent of candy floss; wafer thin slices drizzled in olive oil that just melted away in my mouth leaving a fleshy taste behind.
The second course consisted of Fillet steak with a light mustard and wine sauce and Septima Noche 2009. The steak had been cooked on the asador which is a fire pit surrounded by metal crosses traditionally used in Argentina for cooking whole sides of meat. I don't know what wood they were using on that fire, but it lent the charred edges of the fillet a quintessentially flame grilled flavour that I've not really tasted before. The accompanying wine was quite a sweet, heavy red.
Before they served us the third course of mini-sirloin with salsa criolla a pessimistic discussion about salsa broke out between me and the two guys who were sitting at the corner of our the table. We ranted on about how restaurants seem to try to pass off anything that includes raw chopped tomato as a salsa, but all three of us were left slightly abashed when we tried the salsa criolla because it was delicious. Zingy, colourful and dotted with crunchy chilli, this salsa was clearly as authentic as it gets. Unfortunately my sirloin was overcooked and inside looked an odd porky colour, other people's seemed juicy and pink though.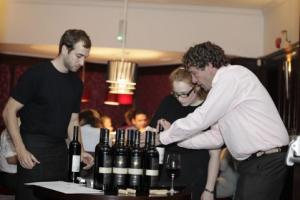 Number four in the procession of dishes was cubes of rib-eye with chimichurri sauce, accompanying it a glass of Septima Cabernet Sauvignon 2008. This wine was one of my favourites because it so much fitted the picture I have in my head of the wine artists and poets drink whilst discussing their latest works- thick, fruity and with a heady, intoxicating aroma.
I ate the rump mini-sandwiches which made up the fifth course without the bread so it wasn't a sandwich anymore but it was scrumptious. The rump seemed like it came from a well hung, aged piece of meat with its blood taste and it's pungent aroma. I washed down the matchbox sized piece of rump with the Septimo Dia Malbec 2008; another strong red wine that echoed the big flavours of the steak perfectly.
The penultimate course was flank of beef with a cherry tomato and rocket salad with Septima Dia Cabernet Sauvignon 2008. Having just devoured five courses of steak, it was a plain relief to see salad on the plate. The flank of beef gave the 'Septima and Steak' menu a nice variation in texture and it fell apart below the knives of all the diners cutting into it. The Septima Dia Cabernet Sauvignon 2008 was rich and deep in flavour, dark and substantial in appearance.
After six courses of steak what my belly really hadn't anticipated was a mini roast dinner; flank of lamb with mint sauce, roasted new potatoes and carrots was what I got. It was actually oddly refreshing to have some sheep flesh instead of cow again and because the lamb was perfectly pink in the middle it was far from a chore to eat.
I forgot to mention that at some point between the third and the sixth course, a bowl of chips hotter than the centre of the sun was placed in the middle of the table. Despite the fact that they burnt the top of my mouth painfully with every bite I couldn't resist them. These chips, with their crunchy fried exterior and their light fluffy, downy interior were easily some of the best I've had in London.
The 'Septima and Steak' menu will be available at A La Cruz from 1st November priced at £36.50, offering a significant reduction on the à la carte price. To book call A La Cruz on 0207 837 1999.