Not everyone loves the thrill of measuring flour and sugar, some people don't even enjoy the anticipation of leaving the butter out to reach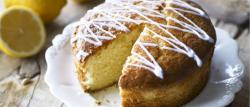 room temperature, and precious few look forward to the washing up involved after baking at home. And even if you do enjoy the simple pleasures of baking, perhaps you just don't have the time.
While packet mix cakes are the next best thing to the real deal, when it comes to time saving, sometimes it's just quicker to pick something up off the shelf.  The Half-Baked Cake Co. saw a gap in the market between packet mix and off-the-shelf, and decided it was time this gap was filled. As the name suggests, The Half-Baked Cake Co. specialise in half-baked cakes.
Using real ingredients like free-range eggs, proper pastry flour and real butter, the Half-Baked Cake Co. has devised a product that is ready to bake. You'll find the boxes in the chilled food aisle at Tesco where you can choose from Chocolate cake, Lemon and lime drizzle cake, Coffee and walnut cake or Farmhouse apple.
The boxes house a wet cake mix that is contained in a cardboard baking box, wrapped in plastic for freshness and ready to pop in the oven. They also come with icing that you can apply yourself when the cake is cool. It couldn't be easier really. You get the convenience of off-the-shelf with the aroma and freshly-baked quality of home made.
The quality of the cake is excellent, with a light texture and fine crumb. The flavours are authentic and no one would know it wasn't home made. The only give away might be the size, which is a little smaller than your average cake tin and more like the size of a small cake baked in a sandwich tin. For more information, visit www.half-bakedcake.co.uk