Today is suspiciously auspicious. Not only is it my dining partner's birthday, but also that of the bloke behind us. And, to cap it all, it's only Navroz (New Year) for the Zoroastrians- the Persian sect from which the Parsis of India descended. The Parsi community has a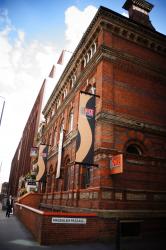 well-deserved reputation for enriching both culture and cuisine wherever they tread- and, since landing at Gujarat in the 17th century, their influence has spread far and near.
The fable of the Zoroastrian arrival in India attests to the riches the Parsis have to offer. Seeking refuge from a local king, he initially refused them entry, using a brimming bowl of milk to illustrate there was'no room at the inn' for incomers. Cannily, one of their number reached over and sprinkled in a few grains of sugar, which dissolved without overflowing the bowl. His message? The Parsi presence would simply sweeten the local landscape- a message that's proved more than true over time.
And that sweet Parsi presence is certainly being felt this evening, as we take our seats at Cafe Spice Namaste. Cyrus Todiwala and his wife, Pervin, are bustling about, warmly greeting guests with cries of'Navroz Mubarak' before departing for their own festive celebrations. We're left to toast the occasion with a pint of Cobra, a delicate decoction of coconut water, rum and rose, and a selection of the restaurant's stunning own-made pickles.
The Parsis are a high-achieving, enterprising people, and the Todiwala family uphold those values. From his championing of goat meat and rapeseed oil in the kitchen, to mentoring other Indian restaurateurs, Cyrus has built a small empire attributed, in no small part, to faith, hope, and charity. The latter quite literally- notably through his involvement with the charity Find Your Feet. He's also a typical Parsi in his dietary preferences- a devoted carnivore with a liking for refined, complex dishes like the famous dhansak.
The Persian lineage is writ large on the Parsi table- wide use of noble spices like saffron, use of fruit and nuts to enrich sauces and pilaus, and an intense love affair with the aubergine. Unusually for a religious group, abstention from certain foods is rare, with the exception of beef- a nod to the Hindus who originally provided sanctuary. However, symbolism is ascribed to certain items- for example, there'll be no sign of the Parsi's beloved prawns tonight- being'bottom feeders', they're too closely linked with death.
Instead, those of us of a piscine persuasion are treated to a toothsome hunk of white fish- its pleasant vinegary flavour a legacy of the Goan cooks' influence on Parsi households, served atop a mound of wonderfully stodgy kitchuri, full of cassia and black cardamom comfort.  It wouldn't  be a Parsi feast without an egg dish-'per eeda', here steamed over a flavoursome keema before being steamed. Not a vegetable in sight, and none the worse for it.
A chicken jardaloo, full of dark, juicy meat, gains sweetness from Hunza apricots and a frivolous little crunch from the thatch of straw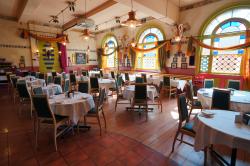 potatoes crowning each serving- an eccentricity thought to have been inspired by business dealings with Westerners. But the star of tonight's feast is undoubtedly the lamb pilau- generous, genius, and downright gorgeous. Parsis won't eat meat for three days following a death. I'm starting to wonder how they cope.
Given the Parsi propensity for bounty, I'm looking forward to a big old piggy pud. Not a word of it- but this dessert's a textbook case of quality over quantity- and we Brits are to thank, at least in part, for it. Lagan nu custer- a thick, rich cream flavoured with powdered cardamom and nutmeg – is a hangover from British rule, and that nursery favourite, baked custard. With it comes a diminutive kulfi- dense, slow-melting and packing the most intense pistachio punch. It may not yet even be midnight, but this meal, along with the famous Parsi hospitality, has pretty much made my year.
Cafe Spice Namaste offer a range of festive and regional menus throughout the year, as well as regular Khaadraas Club events for 'Adventurous Gourmets'. For details, visit www.cafespice.co.uk
Cafe Spice Namaste, 16 Prescot St, E1 8AZ