I could be in trouble deep. That high street purveyor of middle class Italian nosh, Carluccio's, is coming to a Sainsbury's near you with a range of ready meals that knocks the competition into a cocked hat and I for one have had my head turned.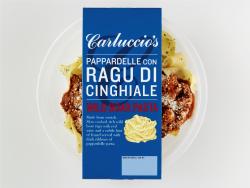 My issue is that I've never been a fan of microwave dinners. I've always managed to rustle something up from the dark depths of the cupboard, even when I'm home alone, harassed and hungry. But now, expectant with child as I am, the lure of an instant, authentic, comforting wild boar ragu when the s**t is quite literally flying, could prove to be an irresistible purchase alongside the pallets of nappies, wet wipes and washing powder.
I'm sure making all my own dinners won't be the only habit of a lifetime to disappear out the window – l'm also forecasting farewells to Sunday lie-ins, checking my emails over breakfast and remembering anyone's birthday – but I'd feel less bad about neglecting my domestic duties serving up food of this quality, than I would a shrivelled, sad lasagne from the freezer aisle.
This is exciting, country-style, fresh Italian food, served up in unusually healthy portions at really surprising prices. The aforementioned wild boar dish (Pappardelle con Ragu di Cinghiale) blew me away with its generosity and multi-layered flavours: chunks of slow cooked meat in a red wine, tomato and fennel sauce atop thick ribbons of fresh egg pasta, it easily served two of us for a lunchtime snack and at £4 a bowl represents a bargain, bountiful supper for one.
With it we tried the Pane all'Aglio e Provolone (£1.50) – posh garlic bread to you and me. Similar in presentation to Pizza Express' own expression, the difference here was in the use of caramelised garlic, fresh parsley butter and shavings of mature Provolone cheese. It came out of the oven tasting restaurant standard (these things always overcook at home by law of averages) and made a lively accompaniment to the pasta.
Another night we shared the Lasagne al Forno (£6), which promised seven layers of satisfaction in its little silver box. I made a point of counting these out, obviously, and found the claim to be upheld. My other half, something of an Italian food fancier, was delighted to note the use of both beef and pork in the ragu but while it was certainly rich and tasty, I felt it lacked a little bite i.e. you could have served it up to a teething toddler (or gummy pensioner) with a plastic spoon without fear of repercussions.
A tub of Puttanesca sauce (£2) and a pack of Casarecce pasta (£1.80) completed our taste test. The sauce looked very appealing with hunks of glistening red tomato and lots of chopped parsley but for me it could have packed more punch. The olives, capers and anchovies were there but it just wasn't as savoury as I was expecting and when combined with the pasta tubes – rolled into an s-shape specifically to help sauces adhere – it didn't. The finished dish, while elegant, tasted a tad too thin and barely there.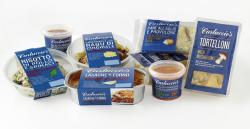 Also in the Carluccio's At Home range is a chicken and spinach risotto, spinach and ricotta cannelloni, penne with Luganica sausage, pasta con funghi and a stew of chicken a roast potatoes in a tomato herb sauce; four types of pasta; four types of ready to pour sauce and two breads.
For stressed new mamas, for whom the prospect of lunch or dinner en famille at one of Signor Carluccio's restaurants is but a pipe dream, this is the next best thing and no papa (delle) in his right mind would dare to preach about being served a ready meal when he's facing potentially more than one wild boar in the kitchen…
www.carluccios.com