Everytime I get a delivery from the Harrod's people I get a little tingle of excitment because I know I'm in for something special. After all, that's what Harrod's do well. I had asked to sample one of their Easter specialities called the Inclusion Egg. The name alone sounds mysterious, alluring and almost mythical and made a huge impression on my family. We handled the boxes in awe and took photos. It looked as if the nuts and berries were bursting from within and we wondered if the eggs could possibly taste as good as they looked. They sat like Easter trophies on the kitchen table, awaiting a greedy ravaging.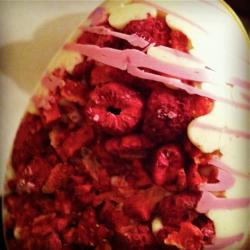 Hand made in either milk or white chocolate and exploding with nuts or freeze-dried berries, these beauties are like the Ferarri of Easter fun. If you're looking to impress someone this year, or just sick of keeping the purse strings tight, this is the perfect way to go all out for Easter this year.
The milk chocolate egg comes laden with pecans, almonds and crunchy biscuity pieces with a strickle of dark chocolate. The nuts, as any chocolate lover knows, are a perfect complement to the milk chocolate. The white chocolate egg is another story, it's like the sweeter, more playful sister of the brown egg. It comes with dried and delightfuly tart raspberries and strawberries that cut the sweetness of the white chocolate like a dream. The pink, and I'm sure strawberry-flavoured pink strickle zig-zags across the egg and adds even more colour, to this already vibrant piece of chocolate art.
These hand-made delicacies don't come cheap however, at £24.95 a pop, these eggs are pretty much the fanciest in town. After days of enjoyment, I was torn between the two as they offer different and equal amounts of bliss and certainly do taste as good as they look. My advice? Get both.
Available at Harrod's for Easter 2012 in store or online. www.harrrods.com