53 Bedford Hill, Balham, SW12 9EZ hopandspice.com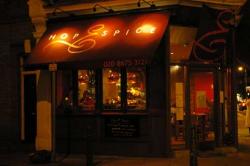 It's not often you get to eat dinner in the same spot you once had your tyres changed. As Balham has gentrified, the old shops have gradually disappeared to be replaced by bars and cafes all catering to the monied young overspill from Clapham. There's even a Waitrose now, a poor replacement in my view for the old open air market now a shadow of its former self.
Still that's life, tempus fugit and all that. Sparky's Tyres is now Hop 'n' Spice, a Sri Lankan restaurant that offers something a bit different from the 'Indians' up the road and in an environment that's a bit more funky – bare wood tables made from hunks of trees do not feature strongly in an Indian restaurant normally, and the flock wallpaper at one end is strictly ironic yeah?
Sri Lanka is of course the approved new name for Ceylon, the old name being too reminiscent of the old oppressor and occupier. I myself am campaigning to have England renamed to Chavland, as the present name derives from Angles, coined by the dastardly invaders from Germany who oppressed us heavily in the 5th century BC. I can't forgive or forget.
Sri Lankan food is characterised by its influences. The country's location has led to various cuisines being adopted and adapted. It can be fearsomely hot, but Hop and Spice have doused their dishes down a little. If you find yours too mild, a splash of sambol will soon bring a tear to your eye.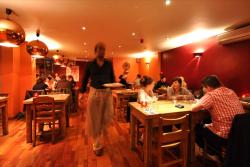 A tear to the eye of laughter came with my starter; two remarkably phallic lamb and potato cakes of porn star size on a bed of rocket. They say size doesn't matter, but these were too generous really, but then again too tasty not to gobble. One would be enough for most people, and perhaps also it could be sliced before table to prevent unseemly sniggering. P's starter of fried spiced chicken with caramelised onions, garlic and ginger was okay but slippery with too many onions and reminiscent more of Chinese food than Sri Lankan. Was that soy sauce?
They like to do tapas plates here, thalis, so a selection of small dishes with rice and some rather sweet (as in sugary) breads. Beef berruwella was dry like a beef rendang and so perhaps overcooked, while squid serendip didn't work for us, the flavours muddy and mixed and with not even a breath of the advertised chili.
The coconut lamb was far better with tender lamb and clearly defined spices and the jaffna fried pork curry had a good fiery undertone with the cider vinegar used in cooking giving a pleasant sharpness to the sauce. Kerralla chicken and the vegetarian curry were both good eats but again suffered a bit from the spices becoming a choir and not individually singing out.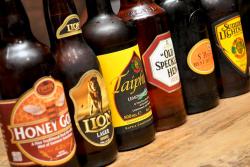 Personally next time I'd go for one main favourite dish rather than lots of little ones, because just as I got happily into a dish it was quickly gone. Top marks for the hop side of things though; an excellent choice of small brewery beers made a welcome change from lager or wine, the latter always a waste of the food and the wine. Don't let some wine writer on a commission to 'design' an Asian restaurant's wine list tell you different. They want to sell you wine because they can mark it up more than they can lager, and that's all there is to it.
We left thinking a sharper distinction on flavours would be good, at times they were too thickset, and a lighter hand with onion generally wouldn't go amiss, as would getting the staff to clear the table quicker between courses – there's a limit as to how long you can be happy to stare at your used starter plates and it's not long. Plus they forgot a dish.
Otherwise fair prices plenty of choice, plus those very good beers to match with the food, means if you're local Hop and Spice is worth a jump on the bus.