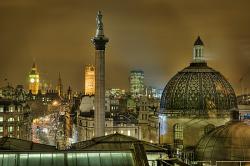 It doesn't matter where I am in London, if I'm with a visitor from abroad I can't help but point out notable aspects of our surroundings – and seek out places of interest for coffee, lunch, tea or supper. The Portrait Restaurant, at the top of the National Portrait Gallery, has been on my list for years – a rooftop view is irresistible and this one even more so with Nelson's Column, the Houses of Parliament and The London Eye visible, giving a sense of perspective not possible from the ground.
Now, that sense of perspective is even broader: the National Portrait Gallery has produced an intriguing guide to the view from the Portrait Restaurant, linking landmarks to portraits in the gallery.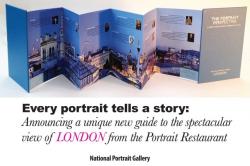 It's a leporello, a concertina pull out booklet, handmade and with a hardback cover, that opens to reveal a metre-long panoramic view stretching from The Gherkin in the City to The Thomas Cook Building on Pall Mall. On the reverse is the view at night.
There's Westminster Abbey, where Henry VIII married his first wife, Catherine of Aragon, and Trafalgar Square, where Dame Kelly Holmes led the celebrations when we heard the news that London would host the 2012 Olympics. Yes, their portraits are downstairs in the gallery. So too are portraits of Norman Foster (The Gherkin) and Winston Churchill (Old Admiralty House). Twenty-two portraits mark 22 spots – all with a snippet of history.
Did you know that the Metropolitan Police training programme is named Elementary in homage to Sherlock Holmes? New Scotland Yard is highlighted and linked to the portrait of Arthur Conan Doyle. Or that there are 32 pods in The London Eye, one for each London borough? A photographic portrait of architectural husband and wife team David Marks and Julia Barfield, who designed the Eye, hangs in the gallery. With facts like these you might even win £800,000 on Who Wants To Be A Millionaire, as did the first female Speaker of the House of Commons Betty Boothroyd, to fund the Whitehall Memorial to Women in World War II. A room in Portcullis House is named after her.
And so the intrigue goes on, exposing panoramic insights and little-known facts linking significant buildings with famous people, contemporary and historical. It's clever – and desirable. And just right for poring over while pouring out a cup of afternoon tea in the Portrait Restaurant or – here's a top tip … if there's a major exhibition on, go for breakfast or brunch. Eggs royale with seasonal fruit juice and bottomless tea or coffee are £12.50, or £17.50 with a bucks fizz; a boiled free range egg with soldiers is £2.95. There's an extensive choice of Wiltshire loose leaf teas; coffee is Lavazza Gran Riserva. Lunch is more elaborate, fixed price or à la carte; it's open for an early dinner on Thursdays and Fridays – and on Saturdays (if booked six weeks in advance). Searcys runs the concession with a menu that changes monthly.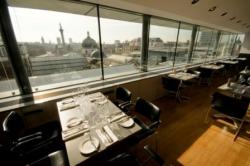 A great view, good food, history old and new – and some intriguing facts: it's London summed up. High quality photography (quite a feat, capturing the whole view so consistently during the day and at night) and a stylishly printed cover make this a splendid souvenir for travellers – it's slim, light and easy to pack – and a must-have for Londoners on the tourist trail with visitors. I keep my copy by my front door, ready to take with me when friends and family come to stay from overseas.
And I will be looking out for more leporellos in other cities – it's a format that would work from any significant rooftop, any significant where – hoping to build up a collection (and win more pub quizzes).
The Portrait Perspective, A guide to the view from the Portrait Restaurant at the National Portrait Gallery: £10
National Portrait Gallery Portrait Restaurant
Leporello produced by: Baizdon