The Lamb Inn, Hindon, Wiltshire, SP3 6DP, boisdale.co.uk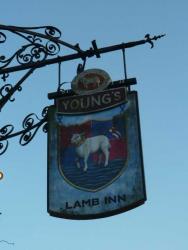 Arriving at Tisbury in Wiltshire at 3.30pm, we sauntered over a stone bridge, past the village football match and into the Bennett Arms, opened only the previous day. Ricky*, a Romany Gypsy – or so he said – 'with daughters roaming the countryside," looked me up and down. It was quite cool in the Bennett Arms, we were the new folk in the village, a charming spectacle, or so I thought.
'You staying at the Hindon?" he asked. I nodded. 'They're posh there – you don't look posh." He grinned, revealing six gaps in his teeth as I rued my fake Barbour coat, H&M special.
'In Hindon, you're either pikey or posh," he says. Apparently Hindon, now a tiny village whose high street is flanked by pollarded trees, chocolate box cottages, Land Rovers and Jaguars, used to have loads of coaching inns (it only has two now, the Lamb and the Angel) but everyone moved back to Tisbury when the train station opened.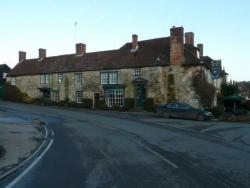 Then Dave, from one of only two cab firms, turns up to whisk us five minutes down the road to the Lamb at Boisdale. The Lamb is a rickety, sweet overnighter, splayed across a corner of a busy crossroads. When I say busy, there are no cars but then suddenly, WHOOSH, one will race out of nowhere on its way to Salisbury or Bristol or somewhere.
The one-time posting inn (it supplied post horses for coaches going to and from London and the West Country) with roots dating back to the 12th century has 19 individually furnished bedrooms and a formal dining room, bar and cigar terrace. Several whisky suppliers such as Glenlivet, sponsor some of the posher rooms and the pelmets and fabrics of the four posters are covered in the suppliers' tartans.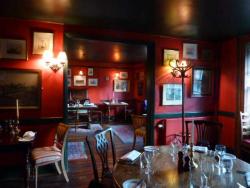 The front lounges are lovely and cosy, all pillarbox red and bottle green walls, in trademark Boisdale style, with wooden beams, huge Inglenook fireplaces, flagstoned floors and assorted iron/copper ware. The walls display an eclectic mix of paintings from shooting scenes to kindly dowagers and Renoir prints.
And the rooms and corridors are all charmingly cambered, slightly shabby chic, with everything on a slant like we were on a tilting cruise ship.
As evening pulled in, and the rain kept hammering, eating seemed a sensible choice of past-times out in the sticks. The menu was short and perfunctory – we had a choice of five starters and five mains.
For starters, there was a special of rollmops and potato cake – the real name I forget as it was scrawled on a blackboard and I didn't take notes. Alone, the potato was a bit bland, like its taste had been sandpapered away but it was perfect when combined with the sweet pickle of the rollmop.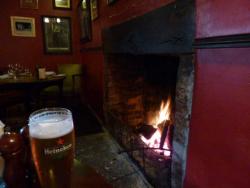 The Dunkeld smoked salmon with shallot and caper relish was plump and had a good smoky flavour. Sadly, both dishes were accompanied by the dry, obligatory rocket that seemed like it had been scattered from a pillow bag.
For mains, I had to go for the roast MacSween haggis, bashed neeps and mashed potatoes. Both veg came moulded into soap lozenge shapes while the haggis looked like two large lambs testicles.
The haggis were rich and meaty with a glutinous covering keeping the oaty blood together, with a distant flame of heat (although that plus the wine kept me up all night) – the neeps were watery however.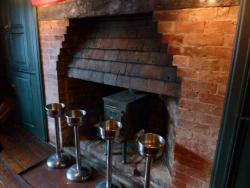 L had hake which was lovely, buttery and flavoursome but was set adrift across a jumbled up bed of garnish, all elbows and fingers of lettuce and tomato and red onion, if you will.
For pudding we had a good rhubarb crumble with great crunch and a lemon cheesecake with Bourbon icecream, which was less memorable. The pub is tied to Young's brewery so doesn't serve local ales but we had a jaunty Merlot.
They also do very popular rare breed organic burgers from nearby Lagan Farms in Dorset but had run out the next day when serving Sunday lunch – which, incidentally, attracted a whole loads of Barbour-wearing families.
Apparently you either get shooting parties here over the extended Christmas season, or people stopping off to break the journey between Cornwall/Devon and London. The staff are wonderfully relaxed and friendly, and there's quite a family atmosphere here although that could just be its rurality.
The Lamb at Hindon is a slightly strange paradox of Scotland in traditional Wiltshire village but the crossover at a crossroads works nicely and nobody seemed to notice my fake Barbour coat.
*not his real name.
Double rooms start at £75 a night; four poster rooms from £85; and the suite from £100.